In Finding her Forever Family by Traci Douglass, Wendy Smith never wants a relationship not after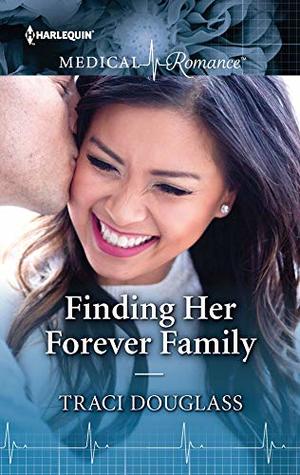 losing her mother to a hereditary illness she could very well have. However, she finds it hard to deny her attraction to Dr. Tom Faber, especially when she's helping his daughter deal with some struggles she's been facing. Yet, the more time Wendy spends with Tom, the more she finds herself wanting the kind of love and happiness her brother has found. Will Wendy be brave enough to fight for what she wants?
="Girls her age are a mystery wrapped in an enigma," Wendy said, skirting his question. "At his flat stare, she laughed. "It's true. Take it from someone who was once a twelve-year old girl herself. Seriously, though, have you considered you might be trying too hard. Give her some space. Don't try to force her to accept you and all this new stuff. Just be there for her. Talk to her like you would any other person in her situation. She'll come around eventually."=
This is the third book I've now read by Ms. Douglass and I've got to say that she pens such heartfelt and wonderful stories that leave me sympathizing with her characters and hoping for the best for the pair in achieving their happy ever after. Really, and I loved the path this couple took from start to finish. The way this story started drew me into the story immediately and had me reading quickly determined to discover what decision the heroine would make when it comes to her future. Will she ever take a chance on a relationship? Will she ever learn the truth about her test results? Will she ever become a mother?
As for the dialogue, it was a tad emotional, intense and I enjoyed every moment of it. Most especially the moments between the heroine and the hero's daughter and the banter between the hero and heroine that creates wonderful chemistry as Wendy and Tom get to know each other and help each other through the good times and the tough times such as Wendy's uncertain future and the tension between Tom and his daughter because they've never had the kind of relationship a daughter should have with her father due to his ex. Will the hero's daughter ever open up to him about what's bothering her? Will Wendy be able to help bring Tom and his daughter closer together?
"I don't want more from you than you want to give."
She closed her eyes and took a deep breath. "When did this get complicated?"
"Relationships are always complicated."
"Please don't say that."
He tilted his head. "What? That this is a relationship? What should I call it, then?"
With the main characters, I absolutely loved Tom. It isn't easy raising his daughter, especially after his ex's actions that never allowed the pair to spend time together. However, I adored his determination to find a way to be a good dad without pushing his daughter too hard to get her to open up to him. I also liked how the hero took Wendy's advice and his determination to win over Wendy because she needs someone in her life like Tom. Someone who is willing to push her past her fears and face her uncertain future head on. Since Wendy needs to know what she's held off finding out when it comes to her uncertain future if she's to ever fully be able to move forward with her life and give a relationship and perhaps motherhood a chance.
While the heroine, her back story tugged at my heartstrings. Yes, she was extremely lucky to have such a wonderful family in her siblings. Yet, it wouldn't have been easy to be able to live her life with such uncertainty when it comes to her health. However, in saying that, everything that's happened in her life has made her the independent and resilient woman she is. Too bad it seemed she didn't have much courage. Then again, Wendy proved me wrong and I loved how she handled every obstacle she encounters to achieve her happy ever after. Certainly, she can't keep going on with her life the way she is. How is not knowing whether she's inherited the illness that took her mother's life better than living life without a special someone?
Overall, Ms. Douglass has delivered a really good read in this story where the romance between this couple was heart-warming and well worth the wait, as Wendy fights her attraction to Tom until she finds it too hard to fight their attraction; and the ending had me worried for one of the main characters, but had me smiling and crying happy tears because of the realization the heroine makes. What if one wrong decision cost her everything she realizes she wants? Will she ever be able to live with herself if she doesn't take a chance on Tom? However, it was the epilogue that wrapped this story up wonderfully because of how happy Tom and Wendy are together. I would recommend Finding her Forever Family by Traci Douglass, if you enjoy heartfelt stories that will tug at your heartstrings, workplace romances, or books by authors Amy Andrews, Amy Ruttan, Tina Beckett and Annie O'Neil.
Book Info:

Publication: May 1st, 2019 | Harlequin Medical |
A nurse to heal his heart…and complete his family.
After losing her mother to a hereditary illness, trauma nurse Wendy Smith vowed never to risk having a family of her own. So acting on her instant attraction to sexy single dad Dr. Tom Faber is a definite no! But through her unexpected connection with his daughter, Wendy grows closer to Tom and their chemistry intensifies…along with her longing for her own family—with him!