In Mad About You by Mhairi McFarlane, Wedding photographer Harriet Hatley has built her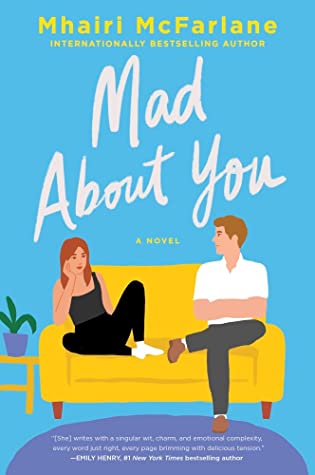 business on capturing the perfect moments, the ultimate romantic pictures that encapsulate a happy couple's big day. Whether she herself believes in marriage is irrelevant. Something Harriet has tried to explain to her boyfriend Jon for the two years they've been together. So when, against her wishes, Jon proposes in a very public way, Harriet is forced to make a bold decision–and soon ends up needing to move. When a lovely room in a nice London neighborhood is up for rent, she jumps at the chance only to find that the owner, Cal Clarke, a seemingly nice enough guy, isn't only way out of her class, but he's also tied to some recent events that cast him in a not-so-positive manner.
"Is this definitive proof I have the worst judgment in men?"
"No, you don't. What you have is trust that has been abused. Men aren't your fault."
Harriet soon learns the truth about Cal and his unlucky romantic past. Something she can relate to all too well. But as they slowly become friends, her personal life yet again implodes, leaving her to worry about her business, what Cal will think of her, and how she can keep a dark spot on her history from happening to someone else. One madcap scheme, a few new friends, and several pep talks later, Harriet sets off to change the narrative in her life while putting things straight. She can only hope that her newfound feelings for Cal and the foundation they've built together as friends can overcome any hiccups her plan encounters.
"I wondered if we might be in one of those situations where I'm madly in love with you and you're at least slightly in love with me, and neither of us are saying so, in case the other isn't."
Just when I thought Mhairi McFarlane's novels couldn't get any more relatable, she gifts us fans with Mad About You–a story whose heroine charmed her way into my heart as she learned to stand up for herself and for what she deserved in her life.
"My life has had good bits, and not-so-good bits. I think I've coped. The one thing I've never been is lucky. I'm generally unlucky. Someone as great as you, loving me back? It's too much luck. You're too much luck."
Trigger warning: View Spoiler »Gaslighting, cheating (secondary character). « Hide Spoiler
Mhairi McFarlane's work always seems to effortlessly pull me into the main character's life and of course keeps me entertained until the last page is flipped. So when my bookish friend asked me what this particular novel was about, and I had to pause and think it through–which is unlike me, especially with McFarlane's books–I realized it's because, honestly, it was about *Harriet*. Full stop. It was simply (and sometimes not so simply) about our heroine Harriet: her childhood losses; her bad luck with men–and what she endured in those relationships; as well as how the choices she made over time were a direct reflection of that grief, anger, and pain. Not that many in her daily life would have known it, thanks to her kind, sunny personality.
As the book synopsis mentions, we find Harriet at a time when she's ending her two-year relationship with Jon, desperately needing a new place to live, and finding that in renting a room from Cal. There were a few secrets revealed throughout the story that I think readers will find serendipitous–and a few that were heartbreaking, as well. McFarlane cleverly kept adding details that had my opinion of many of the characters changing, including Cal, Jon, Roxy, and Marianne. Mostly for the better. But sadly, not always. Watching through Harriet's eyes as she rebuilt her life (again) made me cheer her on to finally come to terms with her past–specifically with her horrible ex, Scott–and to be proud of how much she had overcome.
Female empowerment and close female friendships were a huge part of Harriet's story. I think that part alone will be one of the most relatable, seeing her struggle with friends' expectations, their negative comments, and not having her back at times. But Harriet found out who she could trust by the end as well as who truly had her best interest at heart. And that, along with the humorous bits and the redemption (for Harriet and a couple of others) will undoubtedly capture readers' hearts.
QOTD: Do you have any favorite books about female solidarity–where the women stand together in their daily lives or against a particular issue or obstacle?
Book Info:

Publication: August 9th 2022 | Avon Books |
International bestseller Mhairi McFarlane delivers a sharp, emotional new novel about a woman who calls off her engagement to "the perfect man" and moves in with a charming stranger who makes her question everything about her life, her past, and the secrets she's kept for far too long…
Harriet Hatley is the most in-demand wedding photographer in town, but she doesn't believe in romance, loathes the idea of marriage, and thinks chocolate fountains are an abomination. Which is why, when her long-time partner proposes, she panics. Suddenly Harriet is single… and living down the hall from her ex. She needs a new apartment, like, yesterday.
Enter Cal Clarke, a hopeless romantic who just experienced his own wedding-related disaster. Harriet and Cal are like chalk and cheese, but as they go from strangers to roommates to friends, it becomes clear they're both running from something. When Harriet's most heavily guarded secret comes to light, her world implodes. And Cal, with his witty humor and gentle advice, is a surprising source of calm at the center of the storm.
With her career, friendships, and reputation on the line, Harriet must finally face her past in order to take control of her future. Because if she's willing to stop playing it safe and risk everything to share her truth, real love and happiness may be waiting on the other side…