Stolen Nights with the King by Sharon Kendrick's grown up fairy tale version of "Snow-White &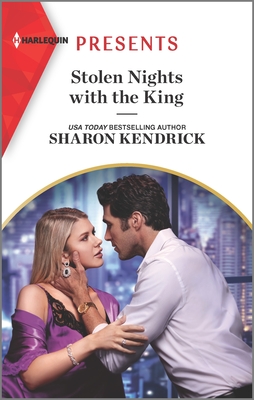 Rose-Red". And a beautifully written emotional and gripping tale it was.
With their past, the last thing Rosie expected was Corso to come knocking on her door in the woods asking for her help. Travelling the world with him was the last thing she wanted to do… after all the mighty King was starting to stir up feelings she's never felt before. At the command of her sister, Rosie reluctantly agrees knowing payment received will be the end of all their financial woes. The time spent close together, feelings are swirling and one kiss is all it takes!
What an adventure! I was captured quickly and didn't put this one down until finished. I loved Rosie and her stoic bravery. I loved the way Sharon Kendrick brought the King to his knees. Corso is a beautifully written King. The additional mystery of Corso's half brother added to the intrigue. Through the pages I followed two people falling in love and I loved the way it was done.
Stolen Nights with the King by Sharon Kendrick is also book 1 of the Secrets of the Monterosso Throne Series and I am very much looking forward to the story of Rosie's sister which has been very nicely set up and teased during the conclusion of Stolen Nights with the King.
Simply adored!
Book Info:

Publication: July 2022 | Harlequin Presents | Passionately Ever After #2
As a child, servant's daughter Rosie Forrester adored her friend Prince Corso. Now he's a high-and-mighty king? Not so much! Yet his demand that she attend an international royal tour with him can't be denied—and neither can their chemistry!
Their passionate tryst can only ever be temporary—Corso has to marry a woman of noble blood. It's a good thing virgin Rosie has vowed never to believe in the illusion of love. But as their time runs out, will their stolen nights together be enough?
Read all the Passionately Ever After… books:
Book 1: A Baby to Tame the Wolfe by Heidi Rice
Book 2: Stolen Nights with the King by Sharon Kendrick
Book 3: The Kiss She Claimed from the Greek by Abby Green
Book 4: A Scandal Made at Midnight by Kate Hewitt
Book 5: Cinderella in the Billionaire"s Castle by Clare Connelly
Book 6: The Princess He Must Marry by Jadesola James
Book 7: Undone by Her Ultra-Rich Boss by Lucy King
Book 8: Her Secret Royal Dilemma by Chantelle Shaw