Madly by Ruthie Knox: Allie has always felt like the odd one out in her family. It didn't help when she walked away from her fiancé and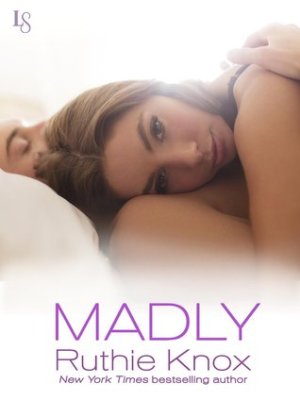 learned a family secret that changed how she viewed everything. Now that her sister moved to NYC, Allie feels the pressure to hold their family together. When her mom takes off on yet another secret trip, Allie decides to follow her mom and do whatever is needed to haul her back to Wisconsin.
Winston always tried to follow his family's expectations and do what he should. Following expectations only lead to one problem after another for him. Now he's living in New York while trying to be a good dad to his daughter. He's a sexy Brit with a great accent and a talent for business.
A great spy Allie is not, so she impulsively draws a somewhat reluctant Winston into her plans. It's definitely an interesting first meeting, but it becomes even more so after they stay at the bar talking and drinking.
"Listen, I know this is going to sound kind of crazy, but if you can just kind of bear with me, I think you'll eventually decide it's the good kind of crazy."
"There's a good kind of crazy?"
"If there's not, people have been lying to me all my life."
They become each other's confidante and they let down their walls. They end up creating a list of the things that they want to do and decide to work on that list…together. Allie now has two missions: convince her mom to come home in time for the anniversary part and to cross off each item on their to-do list. Along with way, Allie and Winston simply are themselves with each other and they have a lot of fun. Their chemistry builds as each item is checked off, but Allie's impulsive trip is quickly coming to an end.
"We'll make a list," he suggested. "Sort ourselves out. It won't be a problem." he kissed her neck, found a spot behind her ear that caused her to make a very satisfying squeaking sort of gasp.
"We are pretty good at list making," she conceded.
Madly is a highly entertaining, compelling, and sexy story that I really didn't want to put down. Ruthie Knox created a unique storyline with plenty of surprises as secrets are revealed and connections are made. Ms. Knox created an engaging group of characters in their respective families. Madly can be read as a standalone in the New York series. Fans of Katie Graykowski and Jessica Clare will enjoy Madly.

Book Info:

Publication: Expected publication: March 14th 2017 | Loveswept | New York #2
An impulsive trip to New York City, a heartthrob from London, and a scandalous to-do list turn a small-town girl's life upside down in this sultry romance from the New York Times bestselling author of Truly and About Last Night.
Allie Fredericks isn't supposed to be in Manhattan, hiding in the darkest corner of a hip bar, spying on her own mother—who's flirting with a man who's definitely not Allie's father. Allie's supposed to be in Wisconsin, planning her parents' milestone anniversary party. Then Winston Chamberlain walks through the door, with his tailored suit, British accent, and gorgeous eyes, and Allie's strange mission goes truly sideways.
Winston doesn't do messy. But after a pretty stranger ropes him into her ridiculous family drama with a fake kiss that gets a little too real, he finds out that messy can be fun. Maybe even a little addicting. And as the night grows longer, Allie and Winston make a list of other wild things they could do together—and what seems like a mismatch leads to a genuine connection. But can their relationship survive as their real lives implode just outside the bedroom door?