In Mafia Casanova by M. Robinson & Rachel Van Dyken, Romeo Sinacore grew up learning a certain skill set that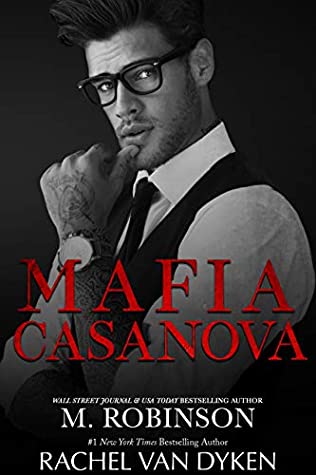 would help him as he traversed the dangerous world of being part of a crime family. He's a seducer. He's a killer. And Romeo, aka Casanova, makes no bones about his darkness. The one light in his life has always been Eden. A few years younger than him and his brother Tristian, she grew up with them, always tagging along and every bit as tough as the boys. But Romeo knows Eden is not his to love. She'd be better off with someone not mired in the dirtiest of the dirty business in the mafia like he is. If only he could stay away…
"Nothing has changed. I'm still no good for you."
"Yet here we are. In the same place we've always been."
Eden is used to the drama that comes with being tied to a well-known and well-respected crime family. She couldn't have dreamed that she would one day be caught in the middle of her own personal nightmare, though, when things deteriorate between her best friends Romeo and his brother Tristian. Eden can't help but be drawn to Romeo. Their chemistry has always been there. She knows he's holding her at arm's length to not only keep her safe, but also to cause her to turn to Tristian. The supposed safer bet. It's not so easy to deny who your heart and your body is trying telling you is the right one for you, though.
"You were convinced I was safer without you in my life when I've only ever been safe because you're in it."
Explosive, complicated, and oh so wickedly sexy, Mafia Casanova took me on an even wilder ride than I expected from the pairing of authors M. Robinson and Rachel Van Dyken. And I had one sinfully good time reading it.
"This life, it takes pieces of your soul away, and if you're not careful you turn into someone you don't recognize anymore."
Trigger Warning: View Spoiler »Domestic abuse, murder, love triangle, torture, cheating. « Hide Spoiler
I should start off saying you really need to be a fan of mafia romances to get into this standalone because holy cow was it intense! And dark. So, so very dark. But compelling at the same time. Because as much as this was a romance–a love triangle actually–it was a family saga as well, as one would kind of expect from a mafia story. The twists Robinson and RVD threw in for the Sinacore brothers and longtime friend Eden, though? That's what made this such a complex, tangled up situation for them and everyone around them that got pulled into the drama.
I don't want to spoil any of the exciting plot twists. I can say that I was equally unsure about Romeo and Eden at points in the story, with some of the choices they made and how that affected, well, everything. It gets frustrating to see characters push each other away when you know they will eventually end up together. And that's the only gripe I have, was how cruel Romeo, his brother Tristian, and Eden were to one another. But even with that, I was still invested in their lives and what ultimately happened to them. It was shocking, the things that took place over the course of several years, which we got to see through flashbacks, but I loved how it all came together and painted a clear picture of the love lost and the love earned between them.
If you are a fan of dark, angsty mafia stories that will make your heart pound from the deception as well as the passionate, forbidden romance, then Mafia Casanova will be right up your alley.

Book Info:

Publication: Published November 17th 2020 | Pub: M. Robinson & Rachel Van Dyken |
From Wall Street Journal & USA Today Bestselling Author M Robinson & #1 NYT Bestselling Author Rachel Van Dyken comes a full length, standalone romantic suspense novel
Romeo, Romeo, wherefore art thou, Romeo?
Can you get anymore cliche? I'd heard that damn phrase my entire life.
Most of the time, it was when a woman was mid-orgasm—or, when I was about to take someone's life.
You see, we all have our demons.
Apparently, my name was mine. Though it didn't help me get my answers any faster.
I nodded when I was supposed to.
I smirked when I needed to.
I complimented when the timing was right.
Then… I'd send them to hell after giving them nothing but heaven.
I should've felt guilt.
I didn't.
Because I was good at what I did.
Making people believe what I wanted them to was an art I perfected. In a world where nothing mattered but staying at the top, I made sure no one slipped through my fingers.
Except for her.
She was gorgeous.
One might say she was the female version of me.
I lost her once.
I wouldn't lose twice.
Now was the time…
To let the games begin.
MAFIA CASANOVA: Full length Standalone Romantic Suspense Novel