Make Me Need by Katee Robert is the latest steamy and enjoyable romance in her Make Me series, with some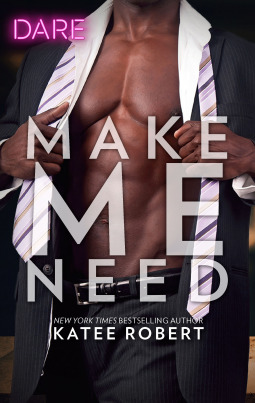 familiar characters popping up and a brand new couple getting their HEA.
Trish Livingston needs money, so a temporary job with her brother Aaron's security firm while he's on paternity leave is just the ticket. Of course she'll have to work in close quarters with Aaron's partner, surly Cameron O'Clery. Though he does his best to avoid her, one sizzling encounter is all it takes to reveal the truth – that Cameron is attracted to his best friend's sister. Is it doomed from the start or will this couple find something long lasting?
I've been enjoying Katee Robert's Harlequin Dare imprint books and this is another entertaining and sexy read with workplace romance and best friend's sibling themes. Every book has had an interesting couple to contend with and here it's an opposites attract romance for a friendly woman with a perpetually positive outlook and the grumpy, quiet man who captures her attention from the start.
A large black man who'd rather work with computers than people, Cameron can't keep his eyes off of Trish as she puts her decorating hand to work, redoing their offices and finding ways to make herself useful. The forbidden attraction eventually becomes too much for him and it's the start of a heated affair with some steamy love scenes. Translating that into an actual relationship takes some work and has its ups and downs, especially as Trish is finally seeing a future in front of her that would give her the freedom she is looking for and Cameron's fear of commitment holds him back. Eventually they find the compromise they need to get their happy ending. It's another great addition to the series!
Book Info:

Publication: Jul 01 2019 | Harlequin Dare | Make Me #4
Trish Livingston desperately needs cash, so when her brother offers her a job while he's on paternity leave, she snaps it up. She's even willing to put up with his best friend and business partner, the notoriously grumpy Cameron O'Clery—especially when she finds out he's very easy on the eyes.
Cameron hates people: especially peppy, happy people like Trish. He avoids her at all costs, until a raunchy late-night encounter in an elevator shows him that there's a fine line between hate and lust. Cameron knows he's broken the rules—and is resolved to keep his distance from her.
But Trish doesn't make it easy. A work trip places them in adjoining hotel bedrooms, giving her the chance to put on a sizzling show just for him! When Cameron's left wanting more, Trish is delighted to give him exactly that… Can either of them walk away from something that feels this good?