In Making Your Mind Up by Jill Mansell, Since her divorce a few years ago, Lottie Carlyle has been too busy being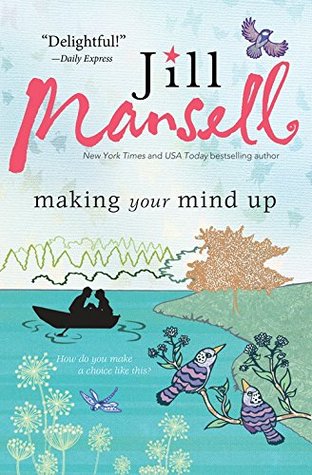 a mom to two rambunctious children and working to date much. Or at all. So when she feels desire for the first time in forever, why does it have to be for the stunning American who will be her new boss? Tyler fits in well in the English resort town, knowing he can use his business acumen to keep the vacation cottages profitable. And with beautiful Lottie as his assistant, who knows what the future may hold for them personally as well.
'Tyler was expecting her at Fox Cottage in less than thirty minutes. Short of tumbling down the stairs and breaking both legs, she hadn't imagined anything could happen to stop her being there. Foolishly, she'd forgotten she was a mother.'
When Lottie's two children and poor Tyler see less than eye to eye, several times, she knows they'll never be able to make their relationship work. She wants to rail at her children and at the world for the unfairness, but what use is it? Then Lottie meets Seb, a gorgeous man who gets along with her children splendidly. And while she likes him well enough, she can't stop thinking about what might have been with Tyler. With her friends each going through their own personal issues, Lottie is left to her own confusion, simply hoping to sort it all out and not get hurt in the process.
"Sounds like you've got yourself a date for tonight." Tyler's tone was expressionless.
Did he care? Really care? A wave of regret swept through her, because if she had the choice she wouldn't choose Seb. But it wasn't a viable dilemma anyway, was it? She was mother whose children had taken that decision away for her.
Making Up Your Mind was a whirlwind journey that kept me guessing how things would ever work out for everyone involved. But don't worry. It all worked out wonderfully, leaving me laughing as I wept away a few tears.
I can always count on Jill Mansell for romance, madcap entertainment, and a wide array of emotions in every story. This standalone title had quite a few characters to keep track of, but as we got a bit into the story, it was easy to keep them all straight. I kind of loved that Ms. Mansell wrote this at a point where Lottie and her friends were all at a crossroads in their lives. It brought out so much depth to their individual struggles and successes. Plus, when it was all said and done, seeing the way they not only rallied around each other but were able to find happiness was utterly satisfying.
Each character was very well-defined, I thought, and seemed genuine. Lottie was a hoot with her carefree manner and outspokenness. Her kids…well, I'll admit I wanted to put them in a time-out more than once for their antics. 😉 But it did lead to some very funny (and frustrating) moments. Their interactions with Tyler didn't really start off too well, to say the least, so it made for a long road for him and Lottie, personally and professionally. The love triangle aspect when Seb entered the picture wasn't overly melodramatic like some stories can get. Ms. Mansell created tension but kept it more realistic while still injecting some trademark humor into those scenes.
Getting to know Lottie's friends so well made this story seem much more full, like this was about the entire community instead of just herself. It helped that this was from multiple POV's so we got a look at things through everyone's eyes. My favorite person, though, I would have to say was Freddie. He was a stellar guy who lived an interesting life and touched the heart of everyone he met. Freddie was to-the-point, introspective, caring, and had some mischief about him that brightened up the story for me.
Part soap opera, part small town romance, Making Up Your Mind will keep readers on their toes and wishing for more time with this quirky bunch of people.
Book Info:

Sourcebooks Landmark | Published May 5th 2015 (first published 2006)
Love is a complicated thing…
Lottie Carlyle is happy enough. Living in a beautiful cottage with her two adorable-sometimes-kids in an idyllic village, on good terms with her ex-husband, and with friends all around, everything is going just fine. But when she meets her new boss, her peaceful world is thrown into delightful, exciting, and frustrating chaos. Tyler is perfect for Lottie, but her kids do not agree. To make matters worse, the handsome and mysterious Seb appears on the scene, intriguing-and distracting-Lottie and charming her children, making it more and more difficult for her to make up her mind…