In A Texan for Hire (Welcome to Ramblewood #4) by Amanda Renee, we are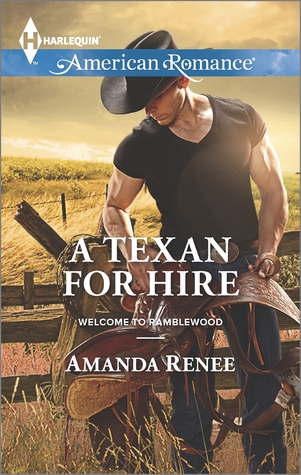 returning to Ramblewood and the wonderful people there. But if you have not read the previous books don't worry, you won't feel lost with this one.
Abby Winchester is used to her biological father always giving her a paper sending her on a hunt to find something that will be useful to her. Not material things, but things that change her world for the better. Until this latest note he left her before he died, "Find your sister." Abby didn't even know she had a sister and after trying to get information from her mother, she now believes that her father was unfaithful to her and that may be why they separated. Her only hope is to go to the Ramblewood where she was born and see if she can find anything out.
Clay Tanner is a PI and a rancher, trying to earn enough money to feed all his random animals he has been paid with for his services. Even if his dream is for his ranch to be full of alpacas and make it as successful as it was when he was younger and before his father had to sell all his sheep. But there is something else that has been holding him back, Clay has not been able to let go of the guilt of what happened while he was an ATF agent. And while he keeps his friends, he keeps everyone at bay and has not told anyone what happened to change him so much.
When Abby hires Clay to try and help find her sister, he feels something he has not felt in a long time. But it would be unethical for him to take his relationship with Abby anywhere. Yet the more time he spends with her the more confused he is, he can't let go of his guilt, yet at the same time can't let her go that easily, to the point that he does karaoke with her and ends up kissing her in front of everyone at the bar, only to walk out on her.
Yet the biggest challenge that Abby and Clay will face will be when he finds her sister, and deciding on how to tell her. Telling her could drive her away, but not telling her and if she finds out some other way will also drive her away. He will need to find a way to finally let go of his past and to show Abby that she has a reason to be in Ramblewood, him.
Abby and Clay will not have an easy journey to their HEA, while they will work together a lot to find her sister, bringing them closer together and igniting their chemistry more and more, they will also have the challenge of her job and her dreams that may come in between them.
If you want a sweet, heart-wrenching book that is also full of compassion, don't miss A Texan for Hire by Amanda Renee.
Book Info:

Published by Harlequin American Romance Series #1540 | March 3rd 2015 | (Welcome to Ramblewood #4)
FIND YOUR SISTER
Three words scrawled on a piece of paper just upended Abby Winchester's world. She'd never known she even had a sister. Abby's sure she'll learn the truth after traveling to the sleepy Texas town where she was born. And tall, brooding Clay Tanner may find the answers she needs, even if he does look more like a cowboy than a PI.
The petite blonde who just hired him is tempting Clay to break his rule not to get involved with a client. But the former ATF agent isn't ready for a relationship-not after what once happened on his watch. Still, helping Abby uncover family secrets makes him wonder if it's time to put his own past to rest. Is Abby willing to face an uncertain future together?