Mama's Boy by Avery Flynn: Based off the description, I expected this to have big "How to Lose a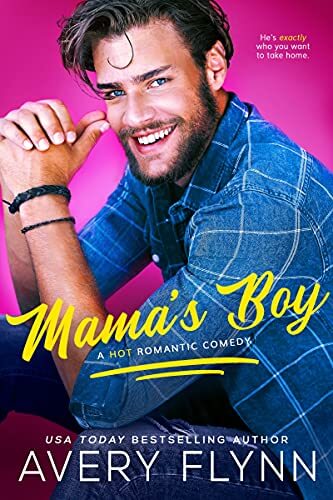 Guy in 10 Days" vibes. There were definitely aspects of that, but overall, the book took turns that I didn't see coming. Both characters struggled with love previously which made them both start as cynics. The internal battles that both Dixon and Fiona encountered was definitely comical at times.
When we first met Dixon, I honestly didn't like his attitude. As the book continued, you started to understand him more and learn more about why he kept love at arm's length. The dynamic between Dixon and his cousins showed how true cousins act around each other. Dixon had the most character development out of the bunch, and I loved him by the end of the book.
Fiona struggled throughout the book on whether to be herself since she had been burned in the past. She was very relatable in her interactions with Dixon as well as her family. I loved her development into understanding herself and who she wants to be in life.
Their families were a lot more involved than I thought they would be, but there were a lot of them. If the book would've focused on a few family members and then expanded as time went on, it would've had more impact. I felt like I knew Dixon's family members but lost out on the ability to know Fiona's. Fiona's sister and best friend along with her parents would've been an easier way to follow them with just mentions of everyone else, but it made it hard to understand what was happening when there were too many characters involved in scenes.
Overall, it was a very cute romance, and I can't wait for the rest of the series, because the characters were definitely relatable and genuine. It didn't end the way I thought it would, but that was a pleasant surprise in my opinion. I had goosebumps at times when Dixon and Fiona interacted and thought that they taught me a lot about love.
Book Info:

Publication: 9/27/2021 | Entangled: Amara | Last Man Standing #1
MUST HATE DOGS
Do you hate dogs? Only want to talk about yourself? Is having a sense of humor something you've never been accused of? Think eating for pleasure is a complete waste of time? Agree that tipping is for suckers? Then you're the date for me.
Dixon Beckett is the kind of guy who loves his mama, treats women right, and never ever wants to fall in love again. That's why he'll do anything to win a bet to be the last single man standing by Christmas.
He's got a plan, too. Create the most no-good, horrible, very bad dating profile in existence. Only someone actually responds to his ad…
The rules say he has to go on six dates with the first (or in his case, only) person who answers—even if that person is Fiona Hartigan: Hater of dogs, non-lover of any delicious food, and zero sense of humor.
But something feels off about this pariah. In fact, Dixon is almost positive Fiona is just pretending to be awful. Pretending to be the most horrible date in existence. And she's most definitely pretending to not be as interested in him as he is in her.
The more Dixon Beckett starts to unravel the mystery of why Fiona answered his ad in the first place, the more he starts considering the most vile, awful, terrible idea ever…falling in love.