The Ex Upstairs by Maureen Child, book 1 in the Dynasties: the Carey Center series, brings us a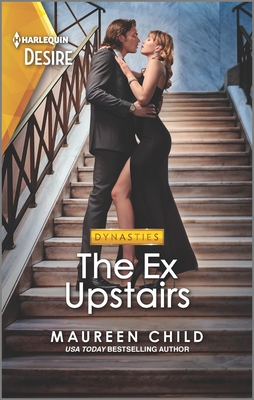 refreshing rivalry that began with an intimate event between Amanda Carey and Henry Porter.
Ten years later, the business fight is still on when Amanda meets again with Henry, her first lover, who has frustrated the purchase of a property near the Carey Center (as part of that fight) and they both realize that what happened in the past between them is stronger than ever. Despite the circumstances, both embark on exploring that still latent passion. But how can love triumph if there is no trust between them?
Amanda, as the third of four children — of whom this series is about— seeks validation in her life. She needs to show her family that she is capable of being as good at her job as her older brother, Bennet, the current CEO of the family company, or her father. Henry, on the other hand, wants to show everyone his carats in the business world, especially to Bennett, her former friend, and the rest of the Carey family. With a somewhat complicated childhood, Henry also seeks to be loved … even if he doesn't know it yet.
"Love shouldn't be this hard, Henry."
"Love?" he repeated. "Who said anything about love?"
"I did. You just weren't listening."
Between Henry and Amanda there is a lot of passion, sexual tension and huge chemistry. However, sometimes that passion and all the burning-pages sex (they're very HOT!) tends to predominate in the plot, leaving aside romance and emotions a bit. Despite this, they're a very exciting couple to watch as they reconnect with each other. Their romance development isn't the best, but their story really works.
One of the strengths of this author is that she knows how to make an excellent introduction of the characters in the first books of a series, either hers or in which she collaborates with other authors, and this one is no exception. Without overshadowing the main characters, Ms. Child introduces the supporting ones and gives us glimpses of what their respective stories will be with exquisite skill.
The Ex Upstairs has turned out to be a good start for a series that promises to be very interesting. Its credible and well-developed plot, sassy and smart writing, fluid scenes and perfectly defined characters, both main and secondary ones, makes the story an enjoyable and fun reading for Harlequin Desire readers.
Book Info:

Publication: September 28, 2021 | Harlequin Desire | Dynasties: The Carey Center #1
Will going undercover as her ex's maid lead to a reunion? Find out in USA TODAY bestselling author Maureen Child's first novel in the Dynasties: The Carey Center series.
She never knew she'd go this far
to keep her enemy this close!
When CEO Henry Porter snaps up a coveted property, Amanda Carey declares war on her ex-lover and business rival. Posing as a maid in his Beverly Hills mansion is the perfect way to tease out his corporate secrets. But before long, her brilliant plan lands her in Henry's bed again. With her cover blown, Amanda realizes her entire future is riding on the man who seems determined to ruin her… Or is he about to turn the tables yet again?
From Harlequin Desire: A luxurious world of bold encounters and sizzling chemistry.
Love triumphs in this uplifting romance, part of the Dynasties: The Carey Center series:
Book 1: The Ex Upstairs
Book 2: Ways to Win an Ex
Book 3: The Wrong Mr. Right
Book 4: One Little Secret