Manhattans Most Scandalous Reunion by Dani Collins was thoroughly enjoyable; possibly because I love second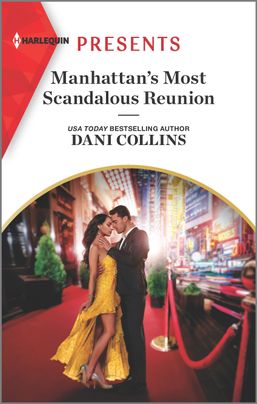 chance stories but mostly because Dani Collin's has a wonderful way of writing fun and emotional stories of love.
The perfect mix of annoyance at Nina crashing into Reve's building starts off a fast paced and exciting journey. The scene was set with recollections of their previous combustible relationship which didn't really get closure. Dani's humor shines through and as per usual Reve is put through the ringer to earn his happy ever after.
I really enjoyed how the Secret Sister plot was played out and the mystery behind that. I always enjoy Dani's characters because of their passion and complexity and the thrilling story that is always a page turner. I enjoyed Reve's tough nut exterior and his humor and I liked Nina's passion and drive.
A great conclusion to this duet which I thoroughly enjoyed. both can be read as standalone but for the full experience I highly recommend both.
Book Info:

Publication: September 2021 | Harlequin Presents | The Secret Sisters #2
She left him.
That doesn't mean she's forgotten him.
When paparazzi mistake Nina Menendez for a supermodel, she takes refuge in her ex's New York penthouse. Big mistake. Guarded Reve Weston is incapable of emotional intimacy—and is intensely seductive…
Reve has had enough of scandal. To keep his name out of the tabloids, he insists Nina stay with him. But as their spark reignites and she shares the mysteries of her past, Reve realizes his cynicism has a downside. If he can't give Nina the fairy tale she dreams of, he'll have to let her go…for good!
Read all The Secret Sisters books:
Book 1: Married for One Reason Only
Book 2: Manhattan's Most Scandalous Reunion