For Love Or Honey by Staci Hart: If there was one thing Jo Blum was sure of, it is her love for her family and their bee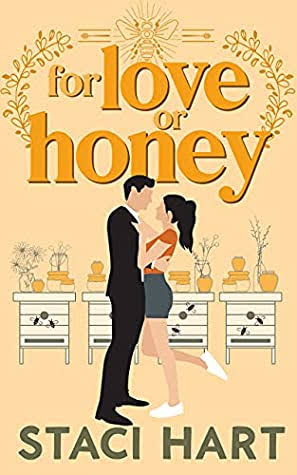 farm so there was absolutely no way in hell that she would allow some corporate bulldog to try and sweet talk her family out of their land or the oil that lay just under their farm much less allow this oil company to destroy the rest of their small town! The only issue being Jo did not take into account how annoying good looking Grant Stone would be or for him to get under her skin in such an all consuming way. Still fully committed to running the charming no good suit out if town Jo challenges Grant to trying and actually living the small town life; hard work, denim jeans, scruffy boots and all! However somewhere between long days on the farm, learning to two step and a pair of well fitted wranglers the line between hate and attraction begin to blur the question is can Jo really trust Grant or is it all part of his act?
"He was the embodiment of power, somehow consuming all air, all attention, all thought, until he was the only person left standing."
Grant is the closer, there isn't a town or a deal that he can't sell which is why Flexion has sent him to seal the deal on the last few holdouts in Lindenbach. With his father breathing down his neck and the towns people being adamant about not sell Grant has his work cut out for him, especially when it comes to Jo Blum. Fully prepared to use whatever means necessary to seal the deal with the Blums, however Grant did not expect to actually find his true self in the small Texan town or for Jo to bring his heart to life. But when the real devil comes to down and rocks the boat will Grant be able to prove that he is no longer the bad guy or has the damage already been done?
"When he walked into the building, every nerve in my body shifted in his direction."
Absolutely brilliant! Oh my sweet sweet romance loving heart just ate up this book! I loved every single second of Jo and Grant's story and getting to see them find their way to love and happiness. Hart started of with a bang and just kept the steamy banter going throughout this book, right from the very first chapter Jo and Grant set the tone for this book and only added to their hate lust relationship and only built on this tension!
"I wake up every morning wondering if I'll see you, when I'll see you. My time is spent thinking about what you'll put me through next, not just because I want to beat you at your own game. Not because I want anything. But because when I'm around you , that magic is there too. I've been starved for that magic my whole life, and you take it with you everywhere you go."
As far as female leads go Jo is quite easily one of my favorites, not only is she such a boss girl but she was loyal to her core, be it to her family or to her town. I loved that she was so driven to protect them at all cost and to find a better more safe way to bring new life to their little town. However it was seeing her with Grant that truly won me over, even when her plan to run him out of town backfired, it was pure gold to read! The relationship between the Blum sisters and their mother was just the cutest, I loved how fierce they were and that they rocked the whole all girls power vibe. Also can we just mention the Blum curse? I wish there was a tiny bit of action in this aspect but I think the whole Grant vs bull situation kind of was a play at the curse.
"She was a siren, calling ships into the rocks and a watery death, if the town was to be believed. But I wasn't superstitious. I didn't believe in fate or curses."
Grant oh Grant! My heart just went out to our misguided hero, as much as I wanted to dislike him it was impossible not to warm up to him! As put together and perfectly styled as he came across Grant was really a lost soul who hasn't ever really felt love. Getting to see him find a home and a sense of self in this small town with Jo was just beautiful to read. Also the guy can sure wear a pair of wranglers! My heart truly broke to see the lack of relationship with his father and just how cruel he was to Grant all this time.
For Love Or Honey was the perfect small town romance with a healthy dose of enemies to lovers goodness to make this book all the more sweet to read! I would highly recommend adding this book to the top of your TBR list asap!
Book Info:

Publication: September 21st 2021 | Staci Hart |
When the devil comes to town, you have to meet him head-on.
Which is exactly what I did when Grant Stone rolled into our small Texas town, driving a sports car I could fit in the bed of my truck, wearing a suit as black as his soul. He's here to acquire mineral rights to half a dozen farms in town.
And there's no way he's getting mine.
I don't make deals with the devil.
So when he challenges me to show him the small town ropes, my motivation is the prospect of seeing him make a fool of himself. He might have an angle, but if he thinks he can finagle me into endangering my bee farm, he's got another thing coming.
Until the line in the sand is washed away.
My farm in danger. A town in upheaval. A man who will stop at nothing to get what he wants.
And me in the middle.
When the devil comes to town, you have to meet him head-on.
And when he sneaks into your heart, he'll only break it.