In Marine for Hire Tawna Fenske set-up a remarkably entertaining tale about a newly divorced mother of two and an undercover marine posing as her manny. Sam Kercher has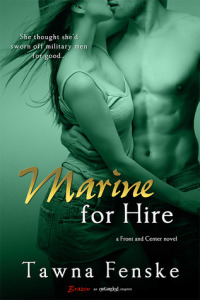 participated in a lot of missions during his career, but nothing prepared him for Operation Nanny. Mac's sister's ex-husband is harassing her; so he calls in a favor, enduring she is protected while he is away. Sam knew the day would come that he would regret owning Mac a favor – today is that day. The favor is to watch over Mac's sister, Sheridan, and her twin sons.
"Just for a couple weeks. I'll find her a real nanny when Limpdick's out of the picture. Oh, and there's one other thing."

Sam raised his eyebrow, resisting the urge to remind him that just one catch had already morphed into more.

Mac folded his arms over his chest again. "Keep your hands off my sister."
This is a great pick me up story that is light, humorous and well-balanced. The foreplay and dialogue have this reader looking forward to future stories. I highly recommend this for fans of wickedly, sexy, military men.
Book Info: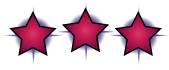 Published February 3rd 2014 by Entangled Publishing (Brazen) |  (Front and Center #1)
She thought she'd sworn off military men for good…
Sam Kercher is every inch a wickedly hot Marine. Tall. Sexy. Lethal. When his best friends call in a favor, Sam is forced to face an entirely new line of duty—playing nanny for their newly divorced sister and her squirming seven-month-old twin boys. If Sam can dissemble an M16 in his sleep, diaper duty should be a cakewalk…right?
Unfortunately, Operation Nanny isn't quite that simple. Sheridan has sworn off overbearing military men, so Sam must protect her from her dirtbag ex without revealing just how much he has in common with her brothers. Or that he's been ordered not to touch her. Ever. Problem is, Sheri's one hell of a gorgeous woman, capable of making this hard-bodied marine even harder. And Sam wants her bad.
Protect the girl. Care for the babies. Hide his identity. And keep his hands off. But even the most disciplined Marine has weaknesses…and Sheridan is one Sam might not be able to resist.