Marine for Hire by Tawna Fenske: Sheri definitely had her hands full. About to start a new job almost literally juggling two toddlers with no nanny and the ink still drying on the divorce decree from her cheating, lying ex. While she needs to be self-sufficient, she also desperately needs some help – and that's where her brother Mac comes in. Through whatever mysterious connections he has, he finds her a 'mannie' – an old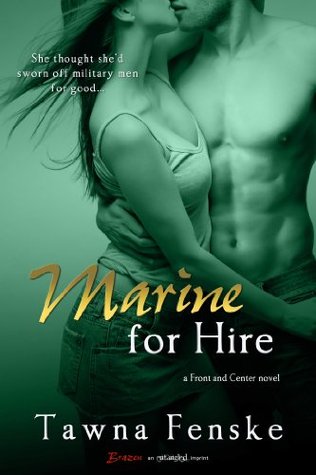 college buddy he insists she met once at a party back in the old days. She's quite sure he's not lying, but man – how could she forget this guy… and how will she be able to deal with the hunk who'll be living in her house 24-7?
Five years ago, my idea of sexy was a guy who picked up the tab for my tequila shots while I danced on the table with my girlfriends, Sheri thought. Now I'm ready to throw my panties at a guy who knows which end of the baby to put the diaper on?
Sam doesn't want to be part of Sheri's brother's deception, but he really doesn't have a choice. For the most part, they're telling the truth. He met Mac in college, he saw Sheri at a party, and he's there to help her take care of her twin boys. What she doesn't know is that even though she doesn't trust military men and wants nothing to do with them, he's a Marine, and he's there to protect her for her brother. Something she'd definitely bristle against. She also has no clue that he wanted nothing more than to kiss the living daylights out of her at that party if she hadn't been Mac's sister, and that feeling hadn't dampened in the years since.
Both Mac and Sam knew not to underestimate Sheri's ex. Even though she'd been underplaying it, he was harassing her about getting back together 'for the sake of the boys'. Sam stayed hyper vigilant – even though sometimes that meant straying to watch Sheri more than his surroundings. Although he tried to keep things under control, when she threw herself at him not once, but twice – he finally gave in. He's only human, and there's only so much a man can take.
So, what's going to happen now that they have a relationship? How will they handle his deception? Her Ex-husband? Her brother's meddling? Her best friend's super crush on Mac? The stuffed peacocks? Exploding beets? Who knows? But you should really read it and find out.
This book was slightly tamer than most Brazens, but the story was adorable. I loved how Sam was Alpha and Nanny all at the same time, and how much he loved her kids. I think I would've given this five stars except for two things – there was a really good opportunity to spill the beans about his being a military guy a bit earlier; and if the hotness factor had been upped a bit. But I think that's more of an editing thing than an author thing, but I really dug it. Can't wait to read about Mac and Kelli!
Book Info:

Publication: February 3rd 2014 by Entangled: Brazen
She thought she'd sworn off military men for good…
Sam Kercher is every inch a wickedly hot Marine. Tall. Sexy. Lethal. When his best friends call in a favor, Sam is forced to face an entirely new line of duty—playing nanny for their newly divorced sister and her squirming seven-month-old twin boys. If Sam can dissemble an M16 in his sleep, diaper duty should be a cakewalk…right?
Unfortunately, Operation Nanny isn't quite that simple. Sheridan has sworn off overbearing military men, so Sam must protect her from her dirtbag ex without revealing just how much he has in common with her brothers. Or that he's been ordered not to touch her. Ever. Problem is, Sheri's one hell of a gorgeous woman, capable of making this hard-bodied marine even harder. And Sam wants her bad.
Protect the girl. Care for the babies. Hide his identity. And keep his hands off. But even the most disciplined Marine has weaknesses…and Sheridan is one Sam might not be able to resist.