Kiss My Cupcake by Helena Hunting: Evie's dream for owning her own cupcake shop is finally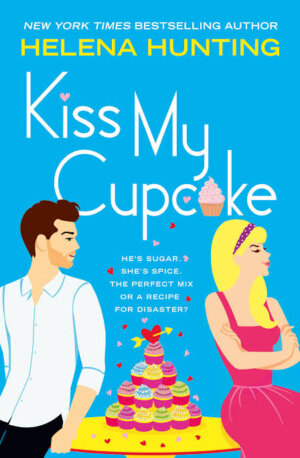 becoming a reality and all without any meddling from her over powering family. With her entire family being in the restaurant business all Evie wanted to do was something of her own without having to follow anyone else's demands, and this was finally coming true all that was left were a few last minute touches. Everything was going smooth sailing that is until the dreadful loud banging coming from the store next door that shook her unicorn martini glasses right of their shelf. Determined to give this annoying noise maker a piece of her mind Evie stomps next door to find the most annoyingly hot hipster lumberjack, with an axe in hand and everything. Turns out Buttercream and Booze are getting a new neighbour.
"It's called a bar, and judging from the look of it, I think you fell down the wrong rabbit hole, Alice. Wonderland isn't here."
What Ronan had planned for being a simple renovations of his grandfather's bar The Knight Cap, goes right out the window when the fiery pinup look alike cupcake queen comes barrelling into his bar to give him hell for all the noise he is causing. Finding her furry over a broken unicorn martini glass hilarious, Ronan and Blaire soon begin their contest of one upping the other and so their rivalry is born. Things heat up even more when a viral contest for best bar in the Midwest comes up and both Blaire and Ronan are hoping for top spot. With their plans to one up each other at their weekly events, the pair soon begin to see that there is more to their love hate relationship and a friendship is blossoms between the two.
"You can't buy happiness, but you can buy cupcakes, and that's almost the same thing."
When big chain restaurant Dick and Bill opens up right opposite their stores, with its ridiculously low prices and big media advertising, threatens to put both Blaire and Ronan out of business they decide it's best to pool their resources and fight the big chain restaurant instead of each other. With this new motivation driving them they plan a big new years eve bash which changes everything between these once rivals.
This book is super cute and funny! Kiss My Cupcake is the perfect enemies to lovers romance and any fan of this trope is in for a true treat with this latest offering by Hunting. From the moment we meet Blaire and Ronan you can feel their electric chemistry, their instant hate for each other only fuels their steamy insta attraction and let me tell you when they finally go give into that attraction it is explosive!
I loved that Blaire was such a girl boss, that even though she comes from a family well connected in the food industry she was hell bent on doing this on her own. Now her family, well they are a strange bunch but I guess it works for them so, all is well. They do definitely add an element of entertainment especially when Ronan joins them for Thanksgiving lunch. As for Ronan, well this axe wheedling hottie was just that a total hottie! I loved his love for Blaire's cupcakes and that he did not even try to hide it. Another thing I absolutely loved was the detail that went into describing the cupcakes, made me crave one or two myself. Back to Ronan, I think one of the things that made him so loveable was the relationship that he had with his grandfather.
"Meeting you changed everything. You came slamming through that door and you made it impossible not to fall in love with you and your determination and your beautiful, creative mind."
I think that Hunting has done a standout job with Kiss My Cupcake, I loved the amount of detail that she added throughout the story as well as that each chapter ended with a quirky saying from either Butrercream and Booze or The Knight Cap's twitter handle. I have to say what really won me over was the cute back story that came with The Knight Cap and that in away history repeated itself with Ronan and Blaire's love story.
"You fell in love with your rival?"
Overall this enemies to lovers romance by Hunting is hands down one that I would read again. Blaire and Ronan will have you laughing out loud at their hilarious antics and falling hopelessly in love right long with them.
Book Info:

Publication: August 11th 2020 | Forever |
As two neighborhood shop owners battle for business, they prove opposites attract in this outrageously funny romantic comedy from the USA Today bestselling author of Meet Cute.
Blaire Calloway has planned every Instagram-worthy moment of her cupcake and cocktails shop launch down to the tiniest detail. What she didn't plan on? Ronan Knight and his old-school sports bar next door opening on the very same day. He may be super swoony, but Blaire hasn't spent years obsessing over buttercream and bourbon to have him ruin her chance at success.
From axe throwing (his place) to frosting contests (hers), Blaire and Ronan are constantly trying to one-up each other in a battle to win new customers. But with every clash, there's also an undeniable chemistry. When an even bigger threat to their business comes to town, they're forced to call a temporary time-out on their own war and work together. And the more time Blaire spends getting to know the real Ronan, the more she wonders if it's possible to have her cupcake and eat it too