In Masquerading with the Billionaire (Guide to Love #3) by Alexia Adams, Kat Smith knows how to uncover the information jewelry designer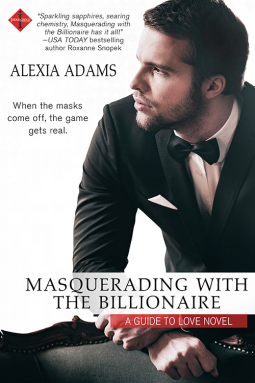 Remington Wolfe needs to find the person responsible for sabotaging his company. Devising a plan to make everyone see her as Remington's girlfriend, she's determined to find the culprit while making sure no one discovers that she's the one capable of finding the person causing trouble. Can she do her job without falling for Remington, or will she lose her heart to the one man that makes her want to give happy ever after a chance?
"I guess if I'm pretending to be your girlfriend, my first job in the morning will be to visit a pet store and get a small dog," she said a few minutes later as he drove.
"Don't. You. Dare."
She laughed, and he missed another gear change. His mechanic must be on retainer. "Relax, I'm a Kat. Dogs aren't my thing."
His eyes caressed her once more, the heat in them when they reached her face made her shiver. "What about wolves?"
Having not read any of the previous books of this series, I didn't know what to expect when I dived into this story, but I can easily say that this story can be read as a stand-alone. Right from the beginning, this story was captivating, fast-paced and I was completely hooked from the moment where Kat and Wolfe meet. She's a free-spirit that isn't afraid to speak her mind, and I liked that she brings the best out in Wolfe by showing him that there's more to life than work.
Both characters were riveting, and I enjoyed them so much because of their back stories and their growing relationship. Kat hasn't had the easiest life, and never has been able to stay in one place for too long, for fear that her past will catch up with her. Except she finds she needs to face the past in order to find the sister she's never given up hope of seeing again. Will she find her sister? Will her past threaten her relationship with Wolfe? While the hero, he works too hard and needs Kat in his life to show him that all work and no play will make him a dull man. However, in saying that, his job sounds fascinating and the contract he's trying to land will set him up for life. Will he get the contract? Will he allow Kat's past to ruin their chance at happy ever after? Will he believe Kat's ex over her?
"You didn't need to dress up, you could have worn jeans and a T-shirt."
"I'm not a jeans and T-shirt kind of girl."
Understatement of the year. "Why?"
She stopped walking. "Are you complaining about what I'm wearing?"
"No. I only want to know why. Is it another piece of your past invading your present?"
Overall, Ms. Adams has penned a wonderful read in this book where the romance kept me entertained due to the challenge Kat plays for Wolfe. Definitely she makes his life more exciting and keeps him on his toes with her sharp tongue and brilliant mind. Her strategy and discovery of the person responsible for sabotaging the hero's company proves just how brilliant she is, even if the person causing trouble was a shock to the hero. The way this story ended had me hopeful for this couple's happy ever after, especially since Kat is running from a past that could need her to change identities quickly. Yet, I liked that Wolfe made things right between them and made sure Kat was safe from those possibly after her. I would recommend Masquerading with the Billionaire, if you enjoy contemporary romance with a bit of mystery or enjoy the mysterious strangers trope.

Book Info:

Publication: March 13th, 2017 | Entangled: Indulgence | Guide to Love #3
World-renowned jewelry designer Remington Wolfe is competing for the commission of a lifetime and someone is trying to destroy his company from the inside. He's in for more than one surprise when his unexpected rescuer turns out to be a sexy computer specialist with a sharp tongue and even sharper mind.
Kat Smith is a cyber-security expert and master of disguise. So being assigned to masquerade as Wolfe's girlfriend while she uncovers who slipped malicious code into his corporation's computer systems is no problem. But when Kat's past catches up to her and their fake relationship starts to feel a little too real, problems are all she seems to have.