Master Professor by Tara Sue Me is the first book in a new series and immediately drew me with its characters and within a few pages, I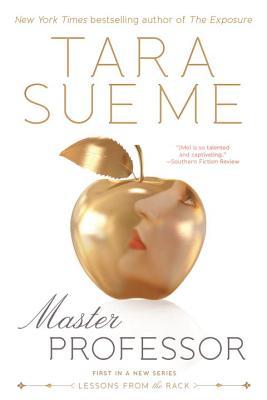 was addicted!
Andie Lincoln is in love with her childhood friend, Terrence, who also happens to be a Hollywood heartthrob. There are few issues standing in their way, though. First, Andie is a virgin, and second, Terrence, is a dominant. Before going forward with their relationship, he tells her he's a Dom and from that point, Andie decides she needs to attend the RACK Academy and be trained to be a submissive. Terrence pays the tuition for her to attend, with the stipulations that her virginity remains intact.
Fulton Matthews is in charge of new students at the Academy and is immediately attracted to Andie. There is something about her that gets to him. At first, he doesn't think she belongs and believes she is just doing this because of boyfriend, but it's clear as the days go by that she's a submissive. When Fulton becomes Andie's partner for the classes, the heat between them becomes hard to ignore and lines become blurry. Andie came to the Academy for Terrence, but what happens when her feelings for Fulton get in the way and become stronger than any of them could have predicted?
I loved Andie and Fulton, so much! Together, they were perfect. But of course, nothing is simple with these two. Andie has a boyfriend who wants her and is the reason she is at the Academy and Fulton, well…he does what any man usually does, and hurts the woman he loves by spouting nonsense.
As much as I loved this story, and I really loved it, I cannot wait for the Headmaster's story. I have a feeling that story is going to be epic and I am eagerly counting the days until that will release. If you enjoy your stories with BDSM, definitely grab Master Professor by Tara Sue Me. You won't be sorry!
Book Info:

Publication: April 4th 2017 | Berkley Books | Lessons From the Rack #1
Students are begging to be held after class…
Andie Lincoln is madly in love with Terrence Knight–her childhood friend-turned-Hollywood's newest golden boy. But he's a Dominant and wants her trained as a submissive before he'll consider a relationship with her. He enrolls her at the RACK Academy with strict instructions for her teachers: Do whatever you need to, but don't take her virginity.
Fulton Matthews, the director of incoming students, is enthralled by Andie. Though he questioned her enrollment at first, watching her discover her submissive nature is hotter than his most intense fantasy. Under his control, her sexual awakening brings him to his knees.
Yet they can go only so far. Andie belongs to another, and Fulton is bound by a contract that strictly forbids relationships between teachers and students. But when Terrence comes to collect his prize, Fulton discovers it's not easy to let Andie go. . .