Sarah Robinson's Nudes hooked me at the Prologue, and kept me on the edge of my seat waiting to see how this Hollywood story would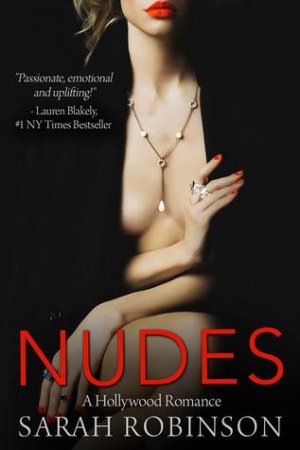 play out. It's a romance with all the feels that you'd expect from a sexy romance, but it also has an empowering message for women and should be on everyone's to-be-read list.
Aria Rose is an actress on the verge of making it big in Hollywood when she finds herself attracted to her new boss, Ben Lawson. She knows it is a bad idea to get involved with him, but their chemistry is hard to ignore. Ben's of the same mindset – he knows a relationship with Aria is in neither of their best interests, but he also cannot seem to resist. They agree to a weekend affair that will end when the weekend ends, but the heart never adheres to best-laid plans. These two are drawn to each other, but neither could predict just how complicated things would become for them, and their working relationship isn't the problem. Nude, explicit photos of Aria are leaked to the public and everything is in chaos.
Nudes shines on a light on a problem in current society, and I think any woman who has had any kind of photo, text message, letter, information—explicit or not—shared without her consent will find hope in how Aria handles this extremely painful experience. Without spoiling Nudes, I will say that Aria rocks and won my respect. She's one of my favorite heroines in 2017, and I am adding her to my book-BFF list. I've enjoyed Ms. Robinson's Kavanagh Legends series, but think Nudes shows a more deliberate and thoughtful side to her, and I am looking forward to seeing what she writes next.

Book Info:

Publication: 5/22/17 | Self-Published | Exposed #1
Ben Lawson is making a comeback…
After a few tabloid headlines, they think they know me. They don't know a damn thing. As CEO of a movie production company, I'll show them who I really am when we hit it big at the box office. My ex thought her smear tactics would ruin me, but I'm unbreakable. Rising from the debris, I swore I'd never let a woman distract me like that again. But then, my leading actress walked on the set and changed everything.
Seductive, sexy, and unapologetic, Aria Rose could break me. I wanted to help her, protect her…love her. Instead, I destroyed her.
Aria Rose is baring it all….
I knew better. I knew not to trust another Hollywood heartthrob with a reputation like his. He was my boss and became my ruin. I should have stayed far away from him. Ben Lawson promised me the world. He even promised me his heart.
But he destroyed everything–my heart, my career, us.