Shelter for Calla by Nicole Flockton is the second book in her Police and Fire: Operation Alpha (Station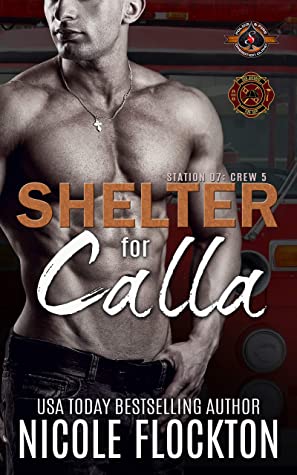 7: Crew 5) series.
Calla Fitzsimmons lived ten years in fear being physically and emotionally abused by her ex-husband. Following her divorce she is enjoying her fresh start in San Antonio, Texas. Her job as a research assistant at the Burn Research Lab is perfect for her and has the added benefit of the new friends she has made there. Tory, Sophie and Quinn make it almost impossible for Calla to hide within herself. Calla hesitated to accept Tory's invitation to Tory's housewarming party. Calla wasn't quite ready to socialize but Tory wouldn't take "no" for an answer. Calla decided to be brave, pull up her big-girl panties and attend the party. And that's where her new life really began. That's where Calla first meets Parker "Spider" Nelder.
Parker "Spider" Nelder is a firefighter, a member of San Antonio Fire Department's Staion 7 Crew 5. Spider always wanted to be a firefighter. He is super dedicated to his job. His fellow firefighters were like family to him. Spider likes his bachelor lifestyle and wasn't looking to change it. Then he meets Calla Fitzsimmons. Calla sure isn't what he expected in the woman he could fall for. Her insecurities are quite apparent and Spider knows he needs to tread softly and take things slow with her. But she sure lightens up his life.
Shelter for Calla by Nicole Flockton is the second book in her Police and Fire: Operation Alpha (Station 7: Crew 5) series. I like the instant attraction in this story. Neither Calla nor Spider thought they were ready to fall in love. Calla especially had many emotional wounds from her previous marriage and didn't quite feel ready to explore a relationship. I liked how these two characters were there for each other. It was great to see the firefighters and their significant others from Station 7 again. This series has been enjoyable so far. It looks like Ben "Johhno" Johnson is next up and that should be interesting.

Book Info:

Publication: March 9th 2021 | Police and Fire: Operation Alpha; Station 7: Crew 5 #2
Having escaped a nightmare of a marriage, Calla Fitzsimmons is starting a new, fresh life in San Antonio. Only the trauma of her past is holding her back from taking the next step. When she runs into firefighter Parker "Spider" Nelder, quite literally, the spark to live the new life she'd fought so hard for, ignites within her.
The last thing Parker is looking for is a relationship. He's seen the aftermath of what love can do to a man and he's staying well away. Then he stumbles into Calla and her vulnerability calls to him in a way he can't resist. Beneath Calla's soft surface is a steel spine and his admiration for her grows the more time he spends with her.
Calla's past isn't prepared to let her escape its clutches. When danger looms, lives are held in the balance. Will Parker be strong enough to survive? And can Calla ever truly be free?