The Maverick & the Manhattanite by Leanne Banks: When Manhattanite Lissa Roarke gets the position as lead volunteer coordinator for Bootstraps' work to rebuild Rust Creek Falls, Montana, after a flood, she is eager to prove herself, and indulge in a secret fascination:
"She wouldn't admit it to anyone else, but she'd had a fascination with cowboys for a long time. She wanted to know more about the real kind of cowboy, ad apparently Montana was full of them."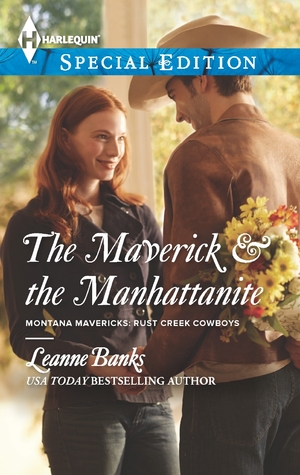 Lissa gets more than she bargained for in Gage Christensen, the hard working Sheriff of Rust Creek Falls. Racked with guilt over not being in town during the flood, he is determined to do everything he can to get the community back on its feet. That doesn't mean he thinks bringing in a city girl like Lissa will help.
"'You haven't done anything but give me a hard time. Maybe you would be happier with someone else heading up this project,' she said. 'You just don't understand what you're getting into. Your degrees may work in New York but they won't do much here,' he said."
Despite his misgivings, Gage works with Lissa to rebuild the community he loves. No matter what attraction he feels for Lissa, city girls aren't his type, especially not city girls who will be leaving once their work is done.
I've read and enjoyed many books by Leanne Banks. I'm not a big fan of cowboys, but when the story is done right, I can fall in love with them. I thought that if any writer could rope me in, it would be Ms. Banks. But The Maverick & the Manhattanite just didn't do it for me.
I loved Gage and Lissa's commitment to rebuilding the area, but their relationship in the beginning was a little too bipolar for me. It felt like there were parts missing to explain how they went from fighting to flaring passions. I liked the supporting cast, but I felt like a couple of characters were written in to set up other books in the series because their appearances didn't add much to the story and their arcs weren't resolved. I didn't feel like there was enough tension and conflict to keep me guessing how they would work it all out. I wasn't as invested as I have been in Banks' previous books. While this was an easy read with complex characters, I wanted more.
I would recommend this book to someone looking for a quick read with well-drawn characters who likes cowboys and sassy women.
Book Info:

Published August 20th 2013 by Harlequin
USA TODAY bestselling author Leanne Banks returns to Rust Creek Falls, the setting for the popular Montana Mavericks: Rust Creek Cowboys, where a cowboy is sure to find love—when he least expects it!
Rust Creek Ramblings
Ever since volunteer coordinator Lissa Roarke rolled into town with her fancy luggage and metropolitan attitude, Sheriff Gage Christensen has been fit to be tied. Everything about Lissa seems to rub Gage the wrong way. She talks too fast, she's too bossy, she's just too…darned…irritating. And readers, you know what that means. It's only a matter of time before these two squawking opposites find their way—together!
But there's a rough road ahead for Rust Creek's sexy sheriff and his do-gooder girl. Can Big Sky and Big Apple make it past the first frost? Just how much will a city girl sacrifice for the strong arms of the law?