Something's Cooking by Meg Lacey is an appealing read about the relationship between Tess Banyon, an almost Martha Stewart, and Josh Faraday, a columnist for The Boston World, a very well-known newspaper. Josh writes his column under the pseudonym JF, because he enjoys the mystery it allows and when he writes about something controversial, he does not personally receive any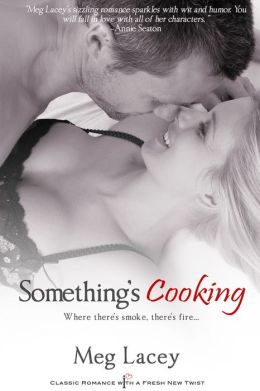 backlash. Furthermore, he has taken pot shots in his column about Tess's success whenever he can. Needless to say, Tess does not like JF.
Tess is a very lucky woman. She has been able to turn her clever culinary and craft ideas into a media powerhouse. Ironically, her cooking and artistic skills leave something to be desired. Her mother Claire is in charge of the food prep and her sister Marla is in charge of the craft prep. Together, they work like a well oiled machine. However, it is Tess's ideas, personality and promotion that makes them all successful. Now that Tess has been given her own TV show, she distresses, because she is not the true homemaker her public believes her to be.
Josh or in this case JF, has always suspected that Tess was a kind of fraud. So he gets himself assigned to write an expose about her. He ends up sharing her home and every moment of her life for about a week. He learns some of her secrets and she learns about his childhood. Tress and her family have no idea that he is JF. Although after spending some time with Tess, Josh's need to let Tess know that he is JF becomes very important.
The chemistry between Josh and Tess is instantaneous. Spending time together only fuels their their mutual lust and need for each other. However, Josh has a job to do and Tess is already suspicious of his motives. In any case, Claire and Marla see their desire for each other and set up them up on an overnight night date, in a place where they cannot escape from one another.
In error, Josh's first draft about Tess gets published and all hell breaks loose. Luckily, because they have fallen in love with each other, they are able to work through their problems and forgive.
I found the plot simple and easy to navigate. The storyline is very predictable and therefore I lost interest from time to time. I enjoyed the family dynamic and their banter.
Book Info

Publisher: Entangled: Indulgence (August 12, 2013)
Tess Banyon has turned her brilliant recipe and crafting ideas into a multimedia empire. Landing her own TV show throws her into a panic. If she's not careful, the public will discover she isn't the domestic diva everyone thinks she is.
Investigative reporter Josh Faraday smells something smoking in Tess's world. His goal to expose the real Tess goes into overdrive when she lands a television show deal. He secures an assignment to shadow her, reporting on her program, but what he's really doing is getting dirt for his expose. Things get even stickier when Tess's family play matchmaker. There's no shortage of fire between them, and after an impulsive night together, Josh discovers a story he never expected–or bargained for.