In Memories of You (Stark Security #5.5) by J. Kenner, Childhood best friends Abby Jones and Renly Cooper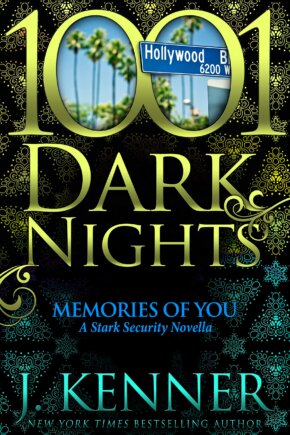 haven't seen each other in years. Not since he had to abruptly move away in high school when his parents divorced. A lot has changed since then. Renly, now a former Navy SEAL who just finished working as a movie consultant in Hollywood has been hired at Stark Security. And Abby is a partner in Nikki Fairchild Stark's tech company. When Abby realizes she might have someone stalking her, the Starks step in, bringing with them Renly to investigate the issue and protect Abby. The former friends get along like no time has passed. The same can be said for their attraction–which, if anything, has grown. But with danger around every corner and their differing views on relationships, can Renly and Abby recapture their past and turn it into a happy ever after?
"Baby, I will promise you the world if you want it."
I shake my head, then feel warm tears on my cheeks as he pulls me closer. "God, Renly, don't you get it? I never wanted the world. All I've ever really wanted is you."
Memories of You was a provocative 1001 Dark Nights novella set in the Stark Universe–a world that J. Kenner fans of course adore. The friends-to-lovers theme and a thrilling thread of suspense made this even more of a page-turner than expected.
'He'd had so much in his life just ripped out of his hands, and he was desperately afraid that Abby was going to follow that pattern.'
First, you can read Memories of You as a standalone with no problem, but if you've been following Nikki and Damien's journey or have read some of the Stark Security books then you've already met our heroine, Abby. As Nikki's business partner in her tech firm, Abby had become quite successful but thankfully she remained the same grounded, sweet, wicked smart woman we've come to love. It was wonderful to get to know her better. And to find out that Abby had such a strong friendship with Stark Security newcomer, Renly, when they were younger.
The flashback scenes/passages really brought home how in tune Renly and Abby were with each other and showed the chemistry they've always had. It worked very well in this case, with Memories of You being a novella, to set the groundwork for them as adults where this was pretty fast paced. Renly was everything I hoped he'd be. He was still dealing with some lingering personal issues after leaving the SEALs but he didn't let working in Hollywood change him. I think his switch over to Stark Security was the perfect move for Renly. It allowed him to keep busy and, most importantly, help people–including Abby, when she had someone stalking her.
Addictive, sweet and sexy, and another fun foray into all things Stark, Memories of You is a must-read for J. Kenner and 1001 Dark Nights fans.

Book Info:

Publication: Published June 8, 2021 | 1001 Dark Nights Press | Stark Security #5.5
From New York Times and USA Today bestselling author J. Kenner comes a new story in her Stark Security series…
Hollywood consultant Renly Cooper is fed up with relationships. His recent breakup with a leading lady played out across the tabloids, and the former Navy Seal is more than ready to focus on his new position as an agent at the elite Stark Security agency. He's expecting international stakes. Instead, his first assignment is to protect one of Damien Stark's friends from a stalker. A woman who, to his delight, turns out to be one of his closest childhood friends.
After a foray into online dating puts tech genius Abby Jones in danger, she needs a bodyguard, and her business partner, Nikki Fairchild Stark, enlists help from Stark Security. When the assigned agent turns out to be her best friend from junior high—and her first crush—she's thrilled to discover he's even more delicious now. She hopes one sexy night can turn into more, but Renly is firmly in the friends-with-benefits camp.
As the threat to Abby increases, she tries to keep her growing feelings for Renly at bay. But as the sparks between them burn even hotter, can they go from friends to lovers when the first order of business is simply to keep Abby alive?
**Every 1001 Dark Nights novella is a standalone story. For new readers, it's an introduction to an author's world. And for fans, it's a bonus book in the author's series. We hope you'll enjoy each one as much as we do.**