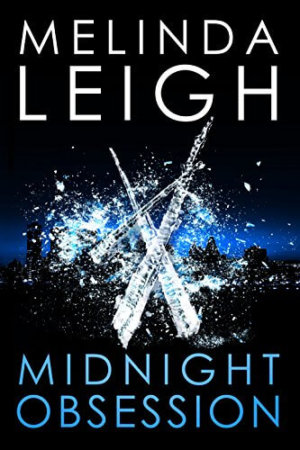 In Midnight Obsession (Midnight #4) by Melinda Leigh, Louisa survived a horrific event at the hands of a madman and is still struggling to move forward with her life. An obsessed killer soon pulls her into another nightmare when her father disappears after inexplicably receiving a frightening package. That is not all that's going on though…a young man her boyfriend Conor has been working with becomes a suspect in murder. From gang ties to Vikings, a swirling mix of suspense kept me wondering what the outcome could possibly be as Louisa and Conor work in their own way to find her father before it's too late.
Midnight Obsession has strong characters, and I loved the different POV's Melinda Leigh gives us throughout. Seeing things through a killer's eyes and 'hearing' his irrational thoughts put a very interesting and frightening perspective on the plot!
I really enjoyed the main characters, Louisa and Conor. Their relationship is well established, and the make a good fit together. I liked how they were together…no angst, no secrets, and all love and caring. They did what worked for them. This part of Midnight Obsession is not about romance, but about a well established relationship that will still have trials to go through. The big question was where their relationship would go from here. Having Louisa and Conor's perspectives provided great insight into their characters!
The main part of the plot, the suspenseful part, was as creepy as it was catchy! As things unravelled I thought I had a vague idea who might be the culprit, but Melinda Leigh kept me guessing right to the end.
Two police officers are strong secondary characters, and their involvement and side stories provided a lot of depth.
I liked how all the characters were connected and how the plot was drawn together with sub plots. It all worked well, and like real life nothing always goes as planned, but some things do.
Midnight Obsession is part of a series, but can be read as a stand alone in my opinion as I read it. Readers who like suspense and strong relationships will enjoy Midnight Obsession!

Book Info:

 January 3rd 2017 by Montlake Romance
In Wall Street Journal bestselling author Melinda Leigh's edgy new thriller, Louisa Hancock thought she was safe…but there's a new killer in town.
When a mysterious package lands on Louisa Hancock's doorstep, the Philadelphia museum curator can hardly anticipate the nightmare that's about to envelop her. The package is addressed to her father—an expert in Viking culture—and inside is a ninth-century sword, a chilling thank-you note, and photos of two dead bodies in a tableau evoking a Nordic funeral. The gruesome images match a recent crime scene. But before the police can investigate the killer's connection to Louisa's father, Ward Hancock vanishes.
Sports bar owner Conor Sullivan wants nothing more than to spend his life with Louisa. Devoted and protective, he refuses to leave her side after her father's disappearance. When a troubled young boxer he's been coaching is suspected of the murders, Conor is pulled in even deeper. Desperate, Louisa and Conor take it upon themselves to find her father, but soon another ritualistic slaying makes it clear there's a Viking-obsessed serial killer on the loose. And he has a new target: Louisa.