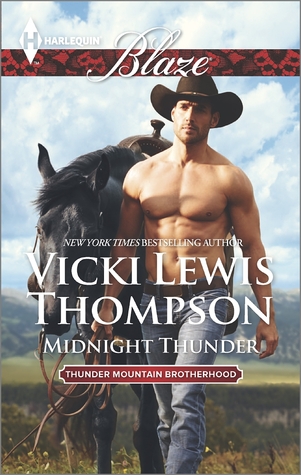 Midnight Thunder (Thunder Mountain Brotherhood #1) by Vicki Lewis Thompson: A lot can happen in five years. For Lexi and Cade will it be too much or not enough?
Lexi Ann Simmons had been in love, real love, once in her life. It had gone beautifully and everyone had expected them to get married. Then the ring never came and the waiting got harder so she finally asked him about it. Turns out he didn't want marriage and left. So for the next five years she struggled and she found herself. Found what she wanted to do and who she wanted to be. Apparently she needed that broken heart.
Cade Gallagher knew he had been a fool five years ago. He walked away from the best thing in his life, not just his girl, but his whole world. When he was hundreds of miles away it was easier to handle, but now going back, how was he to know if he did the stupidest thing in his life leaving.
Cade and Lexi were over each other, at least when they weren't together. However when an emergency comes up and they wind up back in the same place working towards the same goals, apparently they aren't as over as they thought. Five years is a long time though, too long to forgive? Or just enough time to grow up?
This was an interesting read. It's the first book in what I can only assume will be a trilogy but it is not a cliffhanger. The story is well written and flows really well. There are several loose ends that I'm assuming will be closed in other books but you feel like you are getting to know everyone and have a stake in what happens. There is a fire burning in this story and is not for the faint of heart or loins. Midnight Thunder is just a taste of what is to come with the Thunder Mountain Brotherhood and that taste is definitely Michelin rated.
Book Info:

 May 19th 2015 by Harlequin
The lost cowboy…
Thunder Mountain Ranch was the only place cowboy Cade Gallagher had ever called home. But after he and Lexi Simmons broke each other's hearts, he left it behind, along with his foster family. Since then, Cade has drifted, looking for something—anything—to call home. Until a call from Lexi changes everything…
Cade has been gone too long. His foster mother is hospitalized, and the ranch is in deep financial trouble. Yet even as his world crumbles, Cade's hunger for Lexi is almost as tangible as the taste of her lips and the way her body fits deliciously against his. It's bittersweet surrender. But Lexi isn't the girl she used to be, and she's determined to have the hot cowboy in her bed only if she keeps him out of her heart.