In Midnight Wolf by Jennifer Ashley, The Shifter Bureau is already not Angus Murray's favorite group of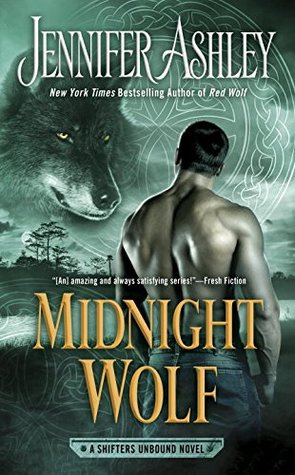 people but when they kidnap his ten-year-old cub and blackmail Agnus? That pushes the black wolf Shifter to his limit. So he temporarily leaves his job as a bouncer at a local bar and begins to track a Shifter –who is Collar-less–named Tamsin Calloway. Angus figures she must be holding onto some pretty important information if Shifter Bureau is after her so openly. But as long as he can deliver her to them, he'll get his boy, Ciaran, back safe and sound. Little did Angus know that meeting the female Shifter would not only put his life in danger, but that it would ignite his senses and a desire to capture Tamsin for himself. He finds that he's not comfortable just handing her over to the Humans who will do anything required to get the intel they want from her. So Angus sets out to help clear Tamsin's name and possibly build a future with the feisty woman who captivates him.
Tamsin laughed. "I really like your cub, Angus."
"I like you too." Ciaran sounded slightly surprised but pleased at this revelation.
"Aw." Tamsin twisted to reach around the seat for Ciaran's hand. Ciaran held hers for a moment, relaxing the same way he did when Angus hugged him.
The two smiled at each other. Angus glanced at them and couldn't stop the twinge of foreboding inside him.
Being on the run is sadly nothing new for Tamsin. Being a Shifter who doesn't have a Collar and who has never lived in a Shiftertown, she's spent her life surviving by her wits while flying under Shifter Bureau's radar. She's not surprised to scent the black wolf trailing her but she *is* surprised that he's Collared. When Tamsin gets into a snafu and Angus assists her, well she thinks it might be alright to stick with the handsome wolf for a short while. But the longer they spend together sneaking past Shifter Bureau agents, Tamsin struggles with the thought of leaving Angus's side. She's quickly addicted to his brooding ways and the obvious love he has for his cub. For the first time in her life, she can see herself tied to someone else emotionally, even though it makes her wary. But holding onto what she has with Angus and sweet little troublemaker Ciaran might just be worth the cost in the end.
'She wondered what he'd say if she told him she'd wanted nothing more than to cuddle up to him, to lie back in the circle of his warm arms. He'd probably rumble and growl, and then blush. She loved it when he did that.'
How can you not like a paranormal romance that so easily blends the excitement of a hunter tracking a supposed fugitive with some sweet & sexy romance? Add in a bit of conspiracy and some (more) unrest in the Shifter world and you've got yourself a winner!
'He threw his head back and let out a howling roar, the triumph of a wolf who has found his heart's desire. Tamsin laughed at him and enfolded him in her arms.'
We're eleven books into Jennifer Ashley's Shifters Unbound series and I'm still having just as much fun as I was at the beginning. Aside from Ashley's awesome writing of course, I think the reason this continuing storyline is still relevant is because we learn something new about Shifters with each book: their origins in the world, their troubled past with the Fae, and even about the new types of rare Shifters we meet. The world-building is ongoing in this series and with every character that is introduced, it adds another intriguing layer to the story arc.
Tamsin was an absolute hoot. She was sassy, kind of a smart-mouth, but was very smart and clever. She could hold her own in a fight but she had a compassionate streak a mile wide in her heart. Now, I won't spoil the surprise as to what type of Shifter Tamsin was but I think it will make readers smile. Ashley did a fantastic job building Tamsin's personality to fit her animal and it thankfully worked really well with Angus's wolf. And Angus…sigh. He was growly like you would expect out of a black wolf and could fight like no one's business. But it was his kindness and love for his cub Ciaran that wowed me and had me cheering him on. I thought it was cool and somehow quite fitting, though, that Angus was awkward and almost bashful when Tamsin would outright flirt with him. It was a completely endearing quality in a big, tough hero, let me tell you. Again…sigh.
I have to admit that I totally fell under the spell of Angus's cub, Ciaran. What. A. Cutie. Pie. Ugh…it had me looking up pictures of wolf pups just to get a true visual as I read about his antics throughout the book. Ciaran actually interacted with a bunch of Shifters and was a huge part of the plot which I loved. Ashley included some perennial favorites like Tiger, Ben, Dylan (okay, Dylan might not be a favorite, lol) Reg, Xander and Dimitri. It kept things lively with so many different personalities and types of Shifters.
Harrowing action, a fierce romantic connection, and a father with his cub in mortal danger, Midnight Wolf was yet another reason to love the Shifters Unbound series.
Book Info:

Publication: April 24th 2018 | Berkley | Shifters Unbound #11
The eleventh novel in the New York Times bestselling paranormal romance series, Shifters Unbound.
Angus Murray, bouncer for a New Orleans Shifter bar, is sent to round up an elusive, Collar-less Shifter woman, Tamsin Calloway, who is causing trouble for Shifter Bureau, and possesses information they want. If Angus refuses, he risks losing his cub. He finds Tamsin but she's slippery and not about to be rounded up quietly.
In fact, quiet is nothing Tamsin will ever be. She leads Angus on a wild chase, but he's determined to bring her in to save his son.
Can Tamsin convince Angus she's worth helping before she's locked away by Shifter Bureau, Collared, or perhaps killed?