The Mighty Quinns: Rourke, by Kate Hoffmann, is a charming novel about two young adults that knew each other as children and due to a nor'easter, find each other again in their mid-twenties.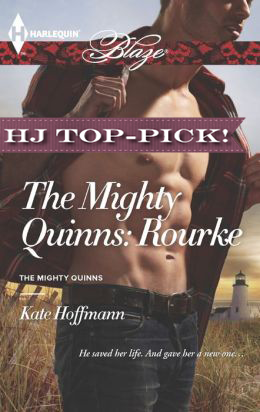 Annie Macintosh lives a simple but contented life in the cottage next to the lighthouse in Freer's Point on Cape Breton Island. Her parents mysteriously drowned when she was very young, so she moved in with her grandmother until she passed away years later. Due to her stutter which she eventually outgrew, she was teased a lot up through the time she attended high school by her classmates. Annie lives alone, without any of today's modern conveniences. While the lighthouse has electricity and a hot water heater, her cottage does not. She maintains the lighthouse and barters for anything that she needs that she cannot afford. Annie rarely socializes and the local townspeople believe she is a little crazy. She keeps herself busy by reading, sewing, taking long walks and painting. From time to time she would meet a tourist or fellow artist that would satisfy her sexual needs, but she never found love.
Handsome Rourke Quinn grew up in New York City, but spent some of his summer vacations on the Cape, working alongside his uncle on his fishing boat. Unhappy with his job as a civil engineer in his late father's consulting company, he decided to resign when his uncle passed away and has spent the past three months on the Cape settling his uncle's estate. At the moment, Rourke has no job to return to when he returns to NYC.
Annie and Rourke run into each other at the local hardware store. Annie was purchasing a large amount of herring while Rourke was purchasing batteries, in preparation for the big storm that was going to slam the island. They both recognize each other from their childhood and a spark ignites between them. Annie secretly worshiped Rourke from a far many years ago and to this day, some of her fantasies involve him. Rourke feels an uncontrollable need to ensure that Annie is safe during the storm. So he ends up spending the night and many more nights after that in Annie's bed. Their connection is magnetic and in a very short period of time, they fall in love.
Annie and Rourke are from two different worlds. Both have to accept the mingling of their past, present and potential future, in order to make a go of it together. Annie has to realize that leaning on another person is a natural part of life and that her future has yet to be determined. Rourke just wants to be happy with Annie.
This book is an emotional delight and I highly recommend it. Ms. Hoffmann's writer's voice is smooth, calming and soulful, like a ballad sung by a crooner from the 1950s. The fluidity of every word and sentence is effortless. The main characters, Annie and Rourke are real, sexy and emotionally riveting. If you are looking for a steamy romance with an engaging storyline, give this book a try.
Book Info:

September 17th 2013 by Harlequin Blaze #Book 768 |The Mighty Quinns #25
Her hero. Her savior. And her undoing. Rourke Quinn found her on the storm-tossed shores of Cape Breton. The woman in his arms was unconscious and bleeding. And Rourke knew her. Annie MacIntosh was the town outcast—a wild thing. And as untamed and beautiful as the Atlantic itself. This storm was just the thing to keep Rourke as close to her as he dared…. Annie grew up fiercely independent. She was a survivor, needing no one and nothing. She cut herself off from the town and society, relying only on her raw need for survival. But Rourke unleashes a hunger she never knew existed. This man—this stranger—satiates an appetite she hardly dared imagine. It's more exiting and more turbulent than that storm that rages outside. And Rourke has only one chance with the wild girl he can't live without…before losing her to a world he can never be part of…(less)