In Run to You by Rachel Gibson, When Stella Leon began her bartending shift she didn't realize her entire life would be turned upside down by the next morning. Someone gets too friendly with her outside the bar and a handsome, military-looking man runs interference, which then ticks off some local seedy characters. Stella's safety comes into question, so yet again, Beau jumps in to her rescue. Of course this is after he explains he was hired by her sister, Sadie, to find her, who has just found out she has a half-sister and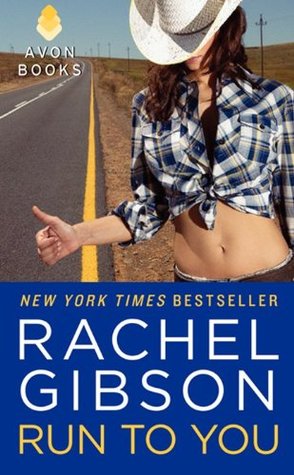 wants to talk with Stella. Old insecurities about her childhood resurface for Stella to contend with, which leaves Beau in charge of getting her to Texas in one piece. She faces an uncertain future including meeting a sister she's never seen before and managing to avoid falling for her knight in shining armor, Beau.
'His arm brushed hers, warm skin and hard muscles. For some strange reason, this stranger's touch calmed the tumble in her stomach.'
Ex-Marine and security expert Beau Junger figured relaying a message to Stella Leon on behalf of his friend would be about the easiest assignment he's had in a while. But nothing to do with Stella can be simple. Beau would gladly face the possibility of enemy fire over having to travel in close quarters with the sultry little vixen. His vow to himself to stop having casual flings and look for more meaningful relationships may put him to the test on their road trip. Stella may be a bit younger than him, but Beau can't help his attraction to her and wonders if he may be losing his mind when he contemplates actually seeing where things go between them. Should he give in to temptation or just finish the security task at hand and walk away?
"Are you okay?"
She didn't have the energy to lie. "Of course not. My life sucks."
"Are you going to pass out?"
Like he cared. "I hope so." She covered her booming heart with one hand. "I hope I pass out and when I wake up, I discover this has all been a hideous dream."
"Nah." He sat next to her, and his big body crowded her space and warmed her skin. "When you wake up, your life will still suck."
Run to You is a solid, engaging romance based on the opposites attract trope. It has a little bit of something for everyone, ranging from funny, playful banter to fighting and action, passionate romance and even a hysterical scene at the bar with a drag queen competition. Rachel Gibson has done a nice job with the flow of the story and creating characters that are very relatable. And the events that happen are dramatic but not too over the top.
Stella and Beau are interesting together. They grate on each others nerves due to their very different personalities, but there is an undeniable chemistry between them. She teases him that he's a spy and a hardass, whereas he picks on her about being annoying, even though he really thinks she's sexy and adorable. The fact that they both have some seriously pent up sexual frustration just adds to the intensity of their relationship. You just know (or at least hope) they are going to explore that attraction and it will be explosive.
I enjoyed the playful dialogue between all of the characters, especially with Beau and his brother Blake. They fought like typical brothers, but being twins, it was interesting to see that dynamic play out. Stella and Sadie's relationship seemed like it progressed a little quickly, but given the specifics of their situation, it is very feasible.
All in all, I truly enjoyed Run to You and think contemporary romance readers will like it as well.
Book Info:

Publication: September 24th 2013 by Avon
Rachel Gibson, New York Times bestselling author of Rescue Me, returns to Texas for the second of her Military Men series, with the tale of what happens when a tough guy meets his match–and falls harder than a ton of red-hot bricks. . .
From Rachel Gibson, New York Times bestselling author of Rescue Me, comes her latest sexy contemporary novel, featuring a hot Navy SEAL and a woman on the run.