In Million Dollar Devil (Million Dollar #1) by Katy Evans, Elizabeth "Lizzy" Banks has spent a lifetime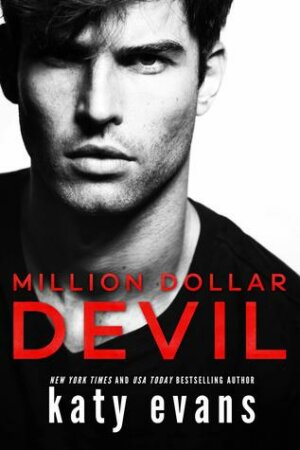 trying to live up to her father's expectations, especially now that she's vying to become his replacement as CEO of his menswear company, Banks LTD. The new project she's working on is almost ready. She just needs the most important part: the face of the new line of high end men's suits. Lizzy finds her guy in the most unremarkable of places, in a local seedy bar. James "Jimmy" Rowan has the good looks, the charisma, and the ambition to make it work. If she can turn the bar-brawler into a refined man in a couple of months. *And* avoid falling head over heels for his dirty-talking charm in the process.
'I've fallen in love with my own creation. I polished a diamond, and now it's flawless. Perfect. But it's not mine to keep.
He is not mine to keep.'
Jimmy's life changed drastically when he turned eighteen and he's spent the last decade trying to stay afloat financially and emotionally. Pouring his time and anger out into the stunts that have made him a big name on YouTube has given him some cash and a reputation as a daredevil. But the biggest risk he'll probably ever take in his life is when he agrees to work with Lizzy and become the face of Banks LTD's new line of suits. James doesn't want to let the stunning woman down. He realizes what she has riding on this project and that it's his key to a brighter future. But will he be able to eventually prove himself worthy of Lizzy's attention? Or will he become the daredevil she tamed and then let go?
'We're palm to palm, body to body, locked in this eye-opening moment, a moment that suggests maybe, just maybe, a woman like Lizzy can fall for a guy like me.
…I need her to fall FOR ME.
I need her to know that she's mine.'
A smoldering, slow burn romance set Million Dollar Devil on fire. Katy Evans' latest novel was all about the sparks of attraction between our wickedly sexy hero and our buttoned up, corporate-type heroine. And oh what a remarkable duo they made!
'This man is so much more than I could have ever imagined.'
It's no secret that I've been a huge fan of Katy Evans' work since her debut novel Real stole my heart. (Remy will always be one of my favorite heroes, ever.) And I've loved seeing all the unique couples she's created over the years, with their interesting backstories and challenges to face down. Million Dollar Devil had its own wonderful combination with our hero James, who had a lot more depth to his character than I first thought; and Lizzy, our heroine who, although bugged me at times with her snobby attitude, had a kind, loving side and who was just trying to feel accepted and wanted for once in her life based on her own merits.
Opposites attract couples are always fun and Lizzy and James were definitely that: she was a privileged woman trying to prove herself to her father, and James had overcome tragedy to become a YouTube sensation. Like I said, Lizzy had moments where she couldn't see past her wealthy upbringing to realize how strong and resilient a man James was and she looked down at him which bothered me a bit. He understood he was from the wrong side of the tracks supposedly but I loved that James (Jimmy, to his friends and fans) took it mostly in stride and knew who he was; what he was worth–not in terms of money, but his value in the world. He certainly taught a lot in that respect to Lizzy. And even though James made a couple of bad choices towards the end, he still ended up redeeming himself (as did Lizzy!) and did right by her, his family and friends.
A rags-to-riches story full of yummy banter and a swoon-worthy ending, Million Dollar Devil proved Katy Evans continues to work her magic with every new romance she sends her fans' way.
Book Info:

Publication: May 28th 2019 | Montlake Romance | Million Dollar #1
Big-city sophistication meets carnal hunger in this devilish contemporary romance from New York Times and USA Today bestselling author Katy Evans.
Heir apparent to her father's company, Lizzy Banks needs a man. The perfect man. But when the rich "fundbabies" she usually rubs shoulders with prove impossible to hire, she takes a chance on a raw beast of a man salvaged from the wreckage of a bar brawl.
James Rowan earns a modest income as a YouTube daredevil, but he can't refuse Lizzy's million dollar deal. As she polishes his rough edges, creating a sophisticated gentleman fit for the highest circles of society, not only does she bring out the perfect man—it's like she's making the man of her dreams. How can she resist?
Though Lizzy loves seeing James in his clothes—and out of them—he isn't the kind of man you bring home to Daddy. Her father's disapproval and the pressure of the campaign have her eyeing the straight and narrow, but Lizzy's finding it awfully hard to resist the devil on her shoulder…