Cowboy Rebel by Carolyn Brown is the 4th book in her Longhorn Canyon series. Nobody does cowboys like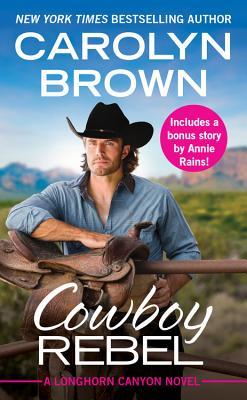 Carolyn Brown does. She paints a picture of a cowboy with all their good qualities and all their imperfections.
What is it about weddings that always seem to beget more weddings? Nikki Grady served as Maid of Honor at her best friend Emily Baker's wedding to Justin Maguire. Emily's twin brothers, Hud and Tag served as groomsmen. At the wedding Tag took notice of Nikki. Nikki took notice of Tag too but Tag's reputation as a "bad boy" stood in the way of Nikki doing anything beyond taking notice.
Taggart "Tag" Baker is living his life in accordance with Tim McGraw's song "Live Like You Were Dying." The fishing part was easily accomplished. That left sky diving and going 2.7 seconds on a bull named Fumanchu. Reckless, a Rebel, that's Tag Baker. Meanwhile Nikki has her own issues. She lost her brother to cancer when he was twelve and her dad left just after that. Her mother is a narcissist with major mental health problems and Nikki deals with her weekly complaining phone calls as best she can. These two seem to be worlds apart. But there's something that attracts them to each other even though Nikki isn't looking for a "bad boy" and Tag knows he's no good for Nikki. Still, they can confide in each other things they've never shared with anyone else. That has to mean something. Doesn't it?
In this story Carolyn Brown writes a cowboy in Tag Baker as a "bad boy" with a good heart. The author's heroines are always strong women with lots of love to give. She sure has that in Nikki Grady. In addition to authentic characters Carolyn Brown always writes loving, supportive families. She has provided that in this book with the Baker and Maguire families. I love this writing style. The bottom line here is that this story has it all – everything a reader could ever want in a memorable cowboy romance.
Looking for great cowboy romance? You've found it here. Cowboy Rebel warms your heart and gives you the "feel goods."
Book Info:

Publication: May 28th 2019 | Forever | Longhorn Canyon #4
The next heartwarming romance in this USA Today bestselling series proves it's tough to resist a sexy cowboy with a Texas drawl and heart of gold! Includes a bonus novella by Annie Rains!
A WILD COWBOY WITH A BIG HEART
Ever since losing his best friend in a motorcycle accident, Taggart Baker wants to make every moment count. No dare is too dangerous, no adventure too crazy for this cowboy. But after one bad brush with the law, he realizes it's time to ditch his hooligan friends and grow up. Now he's running his own ranch next to the Longhorn Canyon spread in Texas. Still, no one would ever call him tame.
Nikki Grady has worked too hard for her RN license just to throw it away for some reckless cowboy who shows up in her emergency room after a barroom brawl. But she can't help being drawn to Tag's sense of humor and those crystal blue eyes. The more time they spend together, the more she sees his good heart. But just as Tag seems ready to settle down for good, his troubled past comes calling-and this time he won't be able to walk away so easily.
Includes the bonus novella A Wedding on Lavender Hill by Annie Rains: When an event planner is asked to create the perfect wedding in just three days, she must turn to the last person she wants to ask for help — the infuriating owner of the house on the hilltop.