In Mind Over Matter by Nora Roberts, Talent agent A.J. Fields has a reputation as a sharp, no nonsense woman who takes care of her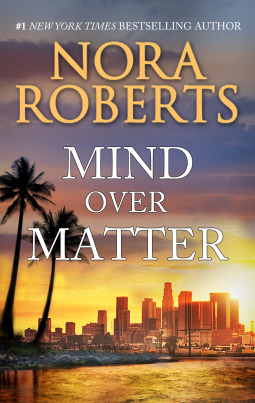 clients and will fight tooth and nail for them. So when highly respected, and very handsome, public television producer David Brady is interested in doing a documentary of one of A.J.'s most important clients, Clarissa DeBasse, she's intrigued. And a bit skeptical. Most people want to either exploit Clarissa's natural psychic abilities or try to disprove them. But it seems as though David is on the up and up and truly wants to explore the world of "sensitive" people, highlighting those who are really gifted and are not using those gifts to harm or scam others.
'She was a successful, self-confident woman who could handle ten David Bradys at a negotiating table. The problem was she just wasn't sure she could handle one of him anywhere else.'
A.J. and David's working relationship starts off with them tiptoeing around each other, both noticing their attraction but not wanting to admit to it. Verbal scuffles and power plays abound as they try to work out how two people so different from each other could have such intense chemistry. When David can no longer deny his desires, he makes a move to see where this thing between him and A.J. will take them. But after having been hurt before, A.J. is reluctant to let her heart get involved again. Defining their time together as a fling only proves to work for just so long, as they both realize things have become much more serious than they imagined it would. And David and A.J. will have to decide if they're capable of risking it all for a chance at love.
"Why complicate it? We want each other. We're both adults. People become lovers every day without doing themselves any damage."
"Some people… But it's not that simple. Making love with you would be easy. Falling in love with you wouldn't."
Originally released in 1987, Mind Over Matter is a reissued Nora Roberts romance that reminded me of the Harlequins I grew up reading and had me remembering just how much fun they were to lose myself in for a few hours.
"The hell with tomorrow." He brought his lips down to hers with a violence that left her shaken. "The hell with everything but the fact that you and I have a need for each other. You're not going home tonight, Aurora."
She let herself go, let herself risk. "No, I'm not."
Oh, the 80s. How I love that decade: Quirky music and movies, big hair, and even bigger egos. It was entertaining to take a step back in time and read a romance set in a world before cell phones and social media, where even though our main characters were busy in their challenging careers, the pace didn't seem as frenetic as it does today. Considering that this was written in the first decade of her career, I was surprised that I still fell right in line with Roberts' writing as I always do, with her lush descriptions and her ability to draw emotion out of each scene.
What I somehow forgot about–and was amused by–was the melodramatic moments, which is something the genre was known for "back in the day". The stories tended to have a soap opera-ish feel to them and that could be said about Mind Over Matter to a certain extent. There were scenes where David would grab A.J. by the shoulders and get all dramatic and angry, then it would turn tender and sweet. Not necessarily something that might fly in today's romances but I think it was what was expected at the time.
I did like both A.J. and David and thought they were strong, independent people who wanted things their own way. The power struggle between them kept things fiery and you never knew what was going to happen or where their conversations would lead. And even the secondary characters were solid and held their own, especially A.J.'s client Clarissa. I did love her even if she was a little bit flighty. She had such a wonderful heart and only wanted to help others, which was admirable. Like the book synopsis indicates, there was a touch of the paranormal with Clarissa's abilities but the focus of the story was on the sensual romance between A.J. and David, although the psi moments added another layer, enhancing the overall story.
Thirty years later, Mind Over Matter still holds up as a passionate love story told in Nora Roberts' one-of-a-kind voice. If you're looking to take an enjoyable trip down memory lane, this just might be the book for you.

Book Info:

Publication: Published July 17th 2017 (first published 1987) | Harlequin |
This book has been previously published and is being reissued.
Don't miss this classic tale of romance and intrigue from #1New York Times bestselling author Nora Roberts.
David Brady needs a star for his documentary on paranormal psychology. When he finds out theatrical agent A.J. Fields has a psychic for a client, he's thrilled. However, A.J. is reluctant to let her client work with the smooth-talking producer who's obviously a skeptic. David can tell that A.J.'s icy exterior is just a front. He's determined to discover what secrets she's hiding…but he might just find more than he bargained for!
Fall in love all over again with a book you've adored for years. Or find a new favorite from the Harlequin archive!
Originally published in 1987.