Ten Days with the Highlander by Hayson Manning: Georgia is the ultimate Corporate girl. Travelling constantly, getting her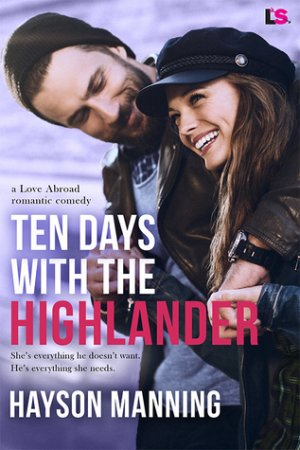 acquisitions for her vacation company, and a total energizer bunny with the perfect presentations. But she's met her match with Callum, the Scottish ex-Corporate boy who refuses to partner his hotel with her company.
Callum wants his town to stay as is. He's seen the soullessness of business when he worked with his father, and he does not want that to touch his small town where the people are like family. But, as Georgia sees, his town is going to die and more people are going to leave if things stay as they are. Callum needs to partner with her to bring more income into his town.
As Callum and Georgia try to convince the other of their view, they find the other irresistible. But Georgia never stays and Callum will never go. It looks like their negotiations will become a bit more personal than they ever expected.
This story was so cute. At times, I was a bit peeved. First with Georgia, then with Callum. I totally got their stubbornness, but that didn't mean I wasn't annoyed by it at times. However, they were so cute and sexy and perfect together, and I just love them and want to read more about them. Plus, Callum had a great goat as a pet.
Although a shorter story, the author packs quite a punch. It was well developed, with a world I wanted to be in and a romance that felt real and deep – if a bit fast. Even though this story takes place in two buildings for the most part, the author creates a wonderful sense of community with plenty of darling and quirky town folk.
I highly recommend Ten Days with the Highlander for those who love their Scottish men. It's a lot of sexy, plenty of cute, a dash of really good heartbreak, and a wonderful HEA.

Book Info:

Publication: August 14, 2017 | Entangled LoveStruck |
Go-getter Georgia Paxton has ten days to acquire a quaint hotel in the Scottish Highlands for her travel accommodation company before she's off on her next grand adventure. Too bad the sexy, broody Scot who owns the place is dead against the idea…and that she's in very real danger of losing their little bet to see who can convince whom first.
There's no way Callum MacGregor is going to let the gorgeous American turn his tiny hometown over to bored tourists looking to satisfy their Outlander fantasies. He only has ten days to convince her to slow down and see the magic of the town and its people. If he succeeds, he won't have to run her out of the county. But if he fails, Georgia might run off with his heart.