Mine for Now by Erika Kelly: Dylan is looking forward to having a fresh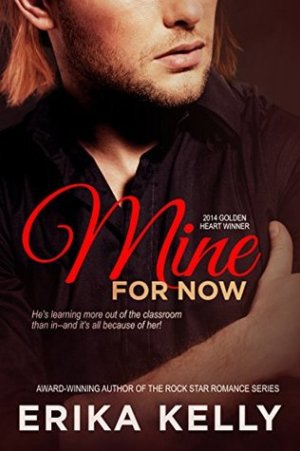 start. It's hard to live in a small town where everyone knows that your mom's an alcoholic. He's used to being judged by her many transgressions and being her sole source of support. Life is finally looking good since his mom is (currently) sober and he's moved across the country. Dylan is stubborn, smart, and loyal.
Nicole is done with having drama in her life. Between her mom and ex-boyfriend, she's done with addicts who always choose their addiction over her. She's determined to focus on making it into the brand-new and super competitive sustainable cooking program. She's smart, creative, and persistent.
Dylan's plan of keeping to himself is blown out of the water pretty quickly, thanks to his mom. He resigns himself to the judgment he's come to expect, but Nicole and his roommate, James, unexpectedly support him. It's a turning point that begins their friendship.
"Whatever. You're in James, right?" "Totally. Love it. Don't worry about Dylan. Make a batch of your cupcakes tomorrow. He'll be your slave for life." "How do you know?" Dylan asked. "You've never tasted them." "Did you not hear me say lavender cupcakes?"
Since the last thing either of them wants is complicated or a relationship, Dylan and Nicole become friends and partners with James in their cupcake business. Living and working together may not be the smartest idea, especially with the chemistry they have. They are connected by their experiences with addiction, even though Dylan is in a very different place.
James is a great character who provides some comic relief, but also some much needed support. Even though Dylan moved so far away, he still feels the pull of his mom. He struggles to find his balance while trying to keep some distance from Nicole. Nicole shows him possibilities and challenges him to really evaluate his choices.
"You're still mad at me," he said.
"When you sober up you'll recall you were the one who was angry with me."
"Just saying, this is way more entertaining than the whole meteor thing," James said.
Mine for Now is a great start to a new series that has drama, angst, heat, humor, and family. Erika Kelly built the tension and anticipation in the changing relationship between Dylan and Nicole. Ms. Kelly created entertaining characters and I'm looking forward to more of Nicole's brothers in the coming books in the Wild Love series. Fans of Cassia Leo and L.A. Fiore will enjoy Mine for Now.
Book Info:

Publication: Expected publication: October 4th 2016 | EK Publishing, LLC | Wild Love #1
From the award-winning author of the Rock Star Romance books comes a sizzling new series about the O'Donnell siblings. The pull of wild love is irresistible.
She's had enough drama in her life.
Nicole O'Donnell is more than ready for the fresh start college offers. After a lifetime of trying to help her alcoholic mom and ex-boyfriend get sober, she's finally learned her lesson: people don't change. They certainly don't change for her.
He can never leave his drama behind.
Thanks to his mom's substance abuse issues, Dylan McCaffrey's persona non grata in his hometown of Gun Powder, Colorado. So when he scores a free ride to the top university in the country, he's determined to make something of this fresh start. But his mom has always relied on him, and she's not handling his absence well at all. If he can just keep up his grades, pay her bills, and come home every break, he might be able to pull off this opportunity.
True love won't be denied.
No matter how determined they are to steer clear of each other, their combustible connection explodes, especially when Nicole offers Dylan the one thing he can't bear—hope. Once he has a taste of it—and the irresistible force of her—there's no going back.
But when he falls too deeply, when he loses sight of his priorities, he might just lose it all.