In Snowfall on Haven Point (Haven Point #5) by RaeAnne Thayne, Young widow Andrea Montgomery is hoping the drama over the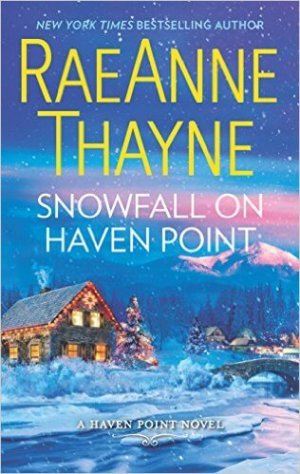 past couple of years has finally settled down so she can enjoy the holidays with her children, Chloe and Will. Losing her husband in the line of duty was tough enough that she's sworn off ever getting involved with another officer again. Then her close friend, and personal savior, Wyn Bailey asks her to look in on her brother, county sheriff Marshall Bailey who's staying next door to Andie. Intimidated by his formidable size and gruffness, she has her doubts that they'll ever get along. But soon enough, Will and Chloe are winning the officer over with their charm and coaxing smiles out of surprisingly patient Marshall as they decorate his house for Christmas. And that makes him nearly irresistible to Andie. Which is a bad, bad thing given his line of work.
"I just…thought it would be better to avoid temptation altogether."
"Temptation. You find me…tempting."
Beyond words. Like he had been dipped in the very best Belgian chocolate and she couldn't wait to lick it away.
Even though Marshall comes from a big close-knit family, he likes his privacy and his independence. But being injured in the line of duty, breaking his leg, means he has to tough it out and accept help from others. The fact that it's his beautiful neighbor Andie and her two cute little kids that keep showing up daily should make him happy. Instead it proves to Marshall how much he's been missing in life having no one with which to share everything. He'll admit he was grouchy at first when Andie showed up on his doorstep but now he wants to make excuses to get her to stay. So when a blizzard forces her, Will and Chloe to stay with him, his prayers are answered. Until things get a bit too serious and they have to decide if a relationship could possibly work between two such wounded souls.
'For the first time in his life, he wanted something else besides the job. He wanted a family, a future… He wanted all of it–with a woman who had told him in no uncertain terms that he was the worst possible man in Haven Point for her.'
Snowfall on Haven Point was a fantastic holiday-themed romance as always by super talented RaeAnne Thayne. Sparks flew between a grumbly sheriff and a compassionate widow even as the snow piled up outside. Add in her two adorable kids, and you had a heartfelt story worth reading over and over.
"You should laugh more often."
"I laugh," he protested. "I just haven't found that many things funny lately–until you and your kids came along, anyway, and reminded me the world doesn't have to be so serious all the time."
"Oh," she exclaimed softly. "That is the nicest thing I've ever heard you say."
I truly look forward to reading anything RaeAnne Thayne releases but I especially look forward to her holiday stories. She so accurately captures the meaning of the season, giving us readers something completely inspiring to lose ourselves in, all while watching two undoubtedly deserving people fall in love as well. That sums up Snowfall on Haven Point perfectly. It showed the bond that was created between neighbors Marshall and Andie as they were thrown together after he was hit by a vehicle and suffered a broken leg. Andie's kind ways and the enthusiasm of her kids, Will and Chloe, melted Marshall's heart, whether he wanted it to happen or not.
Like all of the Haven Point series, you can read this book as a standalone and still be totally entertained and fall in love with the characters. But in this case, I think reading book four, Riverbend Road, would explain both Andie and Marshall's background in a way that would make this book a much richer experience. They each had their own struggles personally that they had to overcome–and were still working toward overcoming–in this installment. I thought Marshall and Andie were a good balance in personalities, though, bringing out the best in each other.
Andie was a giving, caring woman struggling to be a single mom after the death of her husband and she added much needed warmth to Marshall's life. She was a fantastic mom and put her kids above everything else. I loved that she took the negatives from her childhood and turned them around to help her become the person she wished she would have had in her life growing up. Marshall had the opposite childhood, growing up in a loving, boisterous home but he had his fair share of grief and loss over the years, too. He wasn't really a Grinch, thankfully, but he did have a wall up to keep people out and tended to be a bit of a loner. Andie's kids helped bring him out of his shell and I have to say that watching them fill his house with holiday decorations and joy was truly something else. It wasn't an easy road for Marshall or Andie to find their HEA, but it turned out to be well worth it in the end, that's for sure.
Each year Thayne's holiday book(s) get added to my keeper shelf and this absolutely lovely romance is no exception. With family drama, someone out to harm the sheriff, secrets from the past reappearing, and two rambunctious kids ready to spread some serious holiday cheer, Snowfall on Haven Point is sure to win readers over.
Book Info:

Publication: September 27th 2016 | HQN Books | Haven Point #5
There's no place like Haven Point for the holidays, where the snow conspires to bring two wary hearts together for a Christmas to remember
It's been two rough years since Andrea Montgomery lost her husband, and all she wants is for her children to enjoy their first Christmas in Haven Point. But then Andie's friend asks a favor—to keep an eye on her brother, Sheriff Marshall Bailey, who's recovering from a hit and run. Andie will do anything for Wyn, even park her own misgivings to check on her grouchy, wounded bear of a brother.
Marshall hates feeling defenseless and resents the protective impulses that Andie brings out in him. But when a blizzard forces them together for the holidays, something in Marshall begins to thaw. Andie's gentle nature is a salve, and her kids' excitement for the holidays makes him forget why he never wanted a family. If only he and Andie can admit what they really want—each other—their Christmas wishes might come true after all.