Mine To Have by Natasha Madison is the first book in the Southern Wedding series by Natasha Madison.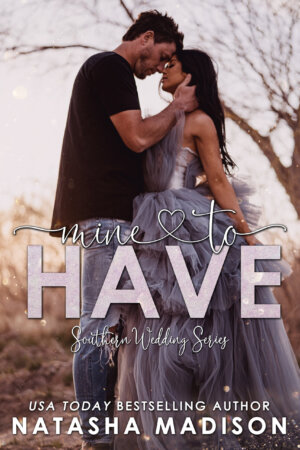 There is a prequel to the series, Mine to Kiss, that really should be read first. It is short and quick to read, but it gives you a look at Harlow and Travis's past and the dynamics of their friendships. 
"Promise me something…
I will promise you anything….
Promise me that you'll be there by my side on the happiest day of my life."
Harlow and Travis meet at college while pursuing their veterinarian degree. Harlow's plan was to return home and open a clinic on the family farm after graduation. She never expected to meet Travis and fall so hard. As they got closer to graduation, she started to reevaluate her future, but Travis dumped her days before their final exam. Mad and heartbroken she returns home to her family and successfully opens her veterinarian clinic.
Receiving an invitation to Travis's wedding now shattered her but she had promised to be there for him on his happiest day, so she honored that promise and attended the wedding.
"Letting you walk out of my life is the biggest regret of my whole life…Hands down, the worst day of my life. Hands down, the worst decision I ever made. Hands down, the biggest regret I've had."
Travis knew how close Harlow was to her family and what her plans were after graduation. He was scared she would not choose him if she had to choose between him and her family. So instead, he let her go and forever regretted it. He knew he would never find another love like theirs so years later he settled for another.
His sisters were event planners and they planned what should have been the perfect wedding. But the day starts out disastrous and worsens when he sees Harlow, the woman he would always love. When his future bride backs out of the wedding, he only feels relief. He takes it as a sign to renew his relationship with Harlow and he will not let her go this time.
This was a beautiful and heartbreaking second-chance romance. They were young when they fell in love and Travis felt like he could not ask Harper to give up all her dreams to be with him. He never took the time to talk with her and assumed she would never choose him. Sadly, Harper had already decided she was staying there but was waiting for him to approach the subject. All the regrets and pain they went through would not have happened if they had only communicated with each other.
The next book in the series, Mine to Hold, is Travis's sister Shelby and Weston's story. It looks like it will be just as wonderful as this book, and I can't wait for it. Madison has quickly become one of my favorite authors. I'm always touched by her characters and their emotions. This was another beautiful story that leaves you with all the feel-goods.
Book Info:

Publication: May 31, 2022 | Natasha Madison | Southern Wedding #1
Are you ready for The Southern Wedding Series?
Things are supposed to go smoothly on your wedding day.
Aren't they?
Are you ready for The Wedding Series?
Harlow
I promised him I would be there for the best day of his life.
Not thinking I wouldn't be the one standing next to him.
But here I was attending the love of my life's wedding day.
I smiled when I saw him and pushed back the tears that wanted to come out.
This was his day and I was going to fulfill my promise.
Travis
It was supposed to be the best day of my life.
But the second I got up, things started to fall apart.
The kitchen just caught on fire.
Flowers were from a funeral.
My bride-to-be just had an allergic reaction leaving by ambulance.
Oh and my ex-girlfriend just walked into the church.
They say you have to see the signs when they are right in front of you.
Maybe she was just mine to have.