Summer at the Cape by RaeAnne Thayne: When their sister passes away unexpectedly, both Cami and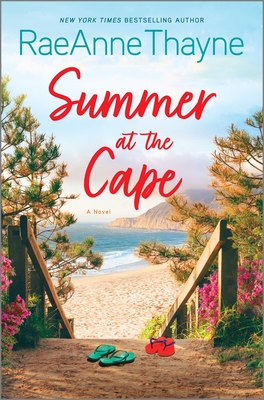 Violet head back to Cape Sanctuary to support their mother. Cami wasn't prepared for the journey, but when the legality of the land lease for her deceased sister's brainchild is questioned, she knows that she must work her magic. What she isn't expecting is resistance in the form of the landowner's son. His very attractive son who believes that the family is trying to take advantage of his father's mental state. The only thing she gets from him is that they can stay until the end of their season, but it's a start. Cami hopes that she can show him that the campground is there for good reason instead of wanting to harm the land.
Violet was planning to come back to Cape Sanctuary to assist her mother upon hearing of her twin sister's passing, but she wasn't expecting to immediately find herself greeting the man who broke her heart. When their break turned into him getting her enemy pregnant and consequently marrying the woman, Violet's heart was shattered into a million pieces. When she keeps running into him throughout town, she doesn't want to let him back in because she wants to protect herself. When he makes it clear that he wants another chance, Violet has to weigh whether it's worth it or not.
Cami is such a strong character. When her parents divorced, she stayed with her dad in LA and focused on her studies. It caused a rift between her and her sisters though, which comes to a head when she goes to Cape Sanctuary. Even though she is concerned about fitting in, she soon finds herself feeling more connected to Cape Sanctuary and mending her relationships with her family. As the book goes on, she questions what she ultimately wants and where she want to end up.
Violet has always seen herself as the less perfect twin, since Lily was always the outgoing one who had lots of friends and continuous interested men. When she got scorned by Alex, she felt the burn even more than he realized. Being back in Cape Sanctuary, she has to confront her demons head on. With the help of her family and Alex, she realizes that she is worth more than she thought.
Wow! This book was phenomenal. I loved both sisters' storylines, and it never felt like one story was overshadowing the other. The cast of characters are so well-rounded so you feel like you really know them. It was definitely more of a clean romance, but it makes you feel hope for them, which is the most rewarding ending of a romance novel.
Book Info:

Publication: April 12, 2022 | HQN |
From the beloved bestselling author of Season of Wonder and The Cliff House comes a poignant and uplifting novel about forgiveness, family and all the complications—and joy — that come with it
As the older sibling to identical twins Violet and Lily, Cami Porter was always the odd sister out. The divide grew even wider when their parents split up—while the twins stayed in Cape Sanctuary with their free-spirited mother, Rosemary, fourteen-year-old Cami moved to LA with her attorney father. Nearly twenty years later, when Cami gets the terrible news that Lily has drowned saving a child's life, her mother begs her to return home to help untangle the complicated estate issues her sister left behind.
Navigating their own strained relationship, Cami readjusts to the family and community she hasn't known for decades, including the neighbor who stands in the way of her late sister's dream, while Violet grieves the loss of her twin and struggles to figure out who she is now, without her other half, as the little girl Lily saved pulls her back into the orbit of the man she once loved.
With poignancy and heart, RaeAnne Thayne once again delivers her charming signature blend of warmth, wit and wisdom.