Miss Amelia's Mistletoe Marquess by Jenni Fletcher is the second book in the Secrets of a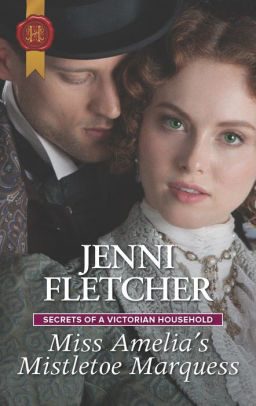 Victorian Household series. The series is a collaboration of four authors writing about the Fairclough family, the widowed Lillian Fairclough, her two daughters, (Charlotte and Amelia) and her son (Silas). Lillian and her husband started the Fairclough Foundation, which provides women a safe place when they are in need. The Foundation needed funds in order to stay open, so Silas left England with plans to help improve their finances. The women have not heard from him in several months and have started to worry.
They received an invitation to a cousin's house in the country for Christmas and before they left Amelia received a proposal of marriage from Gilbert, the local Curate. Amelia was considered the serious, dutiful and self-sacrificing Fairclough so even though she didn't have romantic feelings for Gilbert she was willing to marry him to help save her family. Her mother doesn't want her to enter a loveless marriage just to save them or the Foundation, she hopes Amelia will meet someone new during their visit.
Amelia begins to wonder when she had become such a boring person and can't remember the last time, she had been the adventurous "Millie". After a gathering Amelia is left behind and she decides to walk back to her cousin's house. It was snowing and she got lost but finally found her way to the Falconmore gatehouse.
Cassius, the Marquess of Falconmore, had inherited the title when his cousin passed away. He hadn't wanted the title and certainly didn't want Sylvia, his cousin's widow, to be chasing him. He was staying at the gatehouse to avoid her when Amelia arrived on the doorstep.
Due to the snow, they were stuck there overnight together. When rumors started about Millie, Cassius convinced Millie to marry him. Millie was overwhelmed with all the changes happening in her life. She felt guilty that she was so happy and thought she was being selfish to have so much happiness. Can she overcome her guilt and accept his love?
This was a wonderful holiday book. It was well written and kept my attention all the way until the end. The characters were well developed and so easy to connect with. I can't wait to read Silas's story in the next book. It sounds like more scandal is coming to the Fairclough family!
Book Info:

Publication: November 19, 2019 | Harlequin Historical | Secrets of a Victorian Household #2
The virtuous Miss Fairclough…
…now faces ruin!
Part of Secrets of a Victorian Household. When Amelia Fairclough had sought refuge in a blizzard, a brooding stranger had given her warmth and shelter. She'd even tried to soothe him of his demons in return. But as she scurried home at dawn, she was spotted! Now he's in the parlor, offering to do the honorable thing. Surely she'd be a fool to turn down the new Marquess of Falconmore!