In Mister Romance (Masters of Love #1)by Leisa Rayven, When journalist Eden Tate first heard about Mister Romance–the hot guy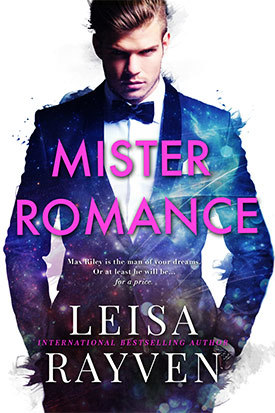 who it seems high society women can't get enough of–she was extremely skeptical. Why would women pay a man to act out roles, go on dates, and then never have sex with him? What could they possibly be getting out of the deal that it's worth the media and their husbands finding out? But after hearing the glowing reviews about Max Riley, Eden's pretty sure if she can figure out the truth about him and what his dates really entail, she can jumpstart her stalling career.
"Okay, so the big question is, why no sex on dates?"
"Sex is for the body. Romance is for the soul."
"Nice catchphrase. You should sell T-shirts."
Eden's investigation is almost brought to a screeching halt when she learns that not only is Max a real charmer, but that their chemistry is insane. Then he bets her that he can make her fall in love with him in just a few dates. Never one to back down from a challenge, Eden agrees, knowing if she falls for Max she'll have to give up her story. But if she fails to succumb to his charms, she'll get the scoop of a lifetime. Soon enough, though, she begins to doubt her ability to keep her growing attraction to the hottie and her professional life separate. Especially when her personal life implodes and Max is there for her every step of the way. Then what started out as an expose on a possible fraud ends up looking something a whole lot like true love.
"The one thing I've learned while doing this work is that as much as I enjoy playing out romantic fantasies, it's still just pretend, and more and more I'm craving something real."
Oh. My. Goodness. What a fun time I had with Leisa Rayven's newest novel, Mister Romance! I swear, between our heroine's snarky one-liners and the out of this world chemistry between her and our hero, I had a perma-smile on my face the whole way through.
"Everything would have been so much simpler if you hadn't made me fall in love with you."
Leisa Rayven was definitely onto something with the premise behind Mister Romance. How interesting an idea I thought it was to see a man who was willing to play a role designed specifically for each woman he "dated" (no sex whatsoever involved) just to boost her confidence and show her she was valued and cherished. And let me tell you, Max, aka Mister Romance, delivered on his promises. He turned out to be an endearing, totally swoon-worthy character even after we found out his secrets. I liked how calm and collected Max was most of the time and how much his intense attraction to Eden knocked him for a loop. It was a tough situation, with him falling for a journalist who could wreck his career, but I loved that it was handled in a real and heartfelt manner. As a bonus, Max and Eden had some seriously playful bantering going on which kept things interesting.
So Eden was a truly entertaining character. She was cynical, rather outspoken, didn't apologize for her views on casual dating or for being a bit of a feminist. But she was also loyal and incredibly loving to her sister and grandmother. Nannabeth, by the way, was as much of a hoot as Eden was and I absolutely adored her! She's one of the coolest octogenarian characters I've read since Eddie & Gladys in Susan Mallery's Fool's Gold series. As far as Eden being a journalist, I know some readers have a difficult time with how they're typically written as having a lack of integrity and as being sneaky. I really liked that even though, yes, Eden was hoping to use this story to further her career, she did want to give Max a fair chance to tell his story. And I think she really did by the end, although not exactly how she thought she would.
With offbeat secondary characters that were as well developed and multidimensional as our hero and heroine, including a pet duck that will have you giggling, Mister Romance was a superbly written modern love story. I'm not sure how Leisa Rayven will top Max and Eden's romance but I can't wait to find out when book two comes out.

Book Info:

Publication: April 30th 2017 | Leisa Rayven | Masters of Love #1
Max Riley is the man of your dreams. Or at least he will be, for a price.
As his alter-ego Mister Romance, Max is a drop-dead gorgeous escort who makes romantic fantasies come to life. No sex, just swoon-worthy dates to die for, and the cream of New York's socialites can't get enough. Whether they want a dominating billionaire, bad boy with a heart of gold, hot geek, sexy biker, or best friend who loves them from afar, Max can make it all happen, but he's careful to keep his real identity a secret.
Enter investigative journalist Eden Tate. Having caught wind of the urban legend of Mister Romance from a lovestruck client, Eden is determined to publish a scathing expose on Max and his ability to swindle lonely society women out of their fortunes.
Desperate to protect his anonymity and his clients, Max challenges Eden to give him three dates. If she doesn't fall in love with him, she can run her story with his blessing. If she succumbs to his charms, the story dies.
Cynical Eden has no doubt she can resist his fake romance personas, but when the real Max admits he's falling for her, she has to decide if the professional liar is telling the truth, or if the passionate man with the mysterious past is just one more character designed to con her out of her career-making story.
Don't miss this sizzling new standalone from the internationally best selling author of Bad Romeo, Broken Juliet, and Wicked Heart.