Mistletoe and Mr. Right by Sarah Morgenthaler is the second book in the Moose Springs, Alaska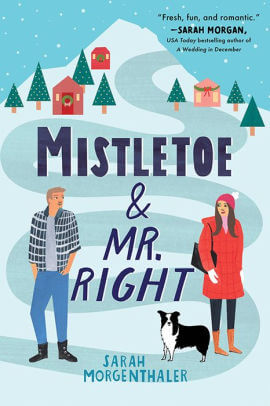 series. This was a new author for me and I'm so glad I got a chance to read it. It was easy to read, flowed smoothly, and kept me laughing the entire book. Moose Springs is a small town in Alaska and a tourist attraction for skiers. Most of the town's business owners preferred not to do business with the tourists and were therefore in financial trouble. It was the Christmas season, so Moose Springs was busy and to top it off they have a moose the town has named "Santa Moose" that is destroying everyone's Christmas decorations.
Lana Montgomery's dream was to build a condominium in Moose Springs and bring in more tourists to help the small town's economy. She fell in love with Moose Springs as a child when her family vacationed there one winter, and she returns there as often as she can. Unfortunately, the town's people didn't want more tourists and were against Lana's plan. As head of Montgomery Group which had bought most of the town's commercial property, Lana was not only battling the town's people but also her cousin for her plans to succeed. Lana decides she can win the people of Moose Springs over by catching Santa Moose. She sets out to catch the moose, but things don't go as planned.
Rick Harding owned the pool hall in Moose Springs which wasn't doing well financially. After his wife left him three years ago for bigger things, he tends to keep people at arm's length. He admired Lana but thought she was out of his league and froze up when she talked to him. He was happy with his simple life in Moose Springs and his strange array of pets. He finally got the courage to ask Lana out but when he sees her professional responsibilities, he decides that their lifestyles are too different for a relationship to work between them. But will Lana allow him to give up?
This was a warm and funny Christmas romance and a perfect book to start the holidays off with. It was interesting, had wonderful characters, and inspired lots of chuckles with all the humor. After reading this heartwarming holiday romance, I look forward to future books from this author.
Book Info:

Publication: October 6th 2020 | Sourcebooks Casablanca | Moose Springs, Alaska #2
How the moose (almost) stole Christmas.
Lana Montgomery is everything the quirky small town of Moose Springs, Alaska can't stand: a rich socialite with dreams of changing things for the better. But Lana's determined to prove that she belongs…even if it means trading her stilettos for snow boots and tracking one of the town's hairiest Christmas mysteries: the Santa Moose, an antlered Grinch hell-bent on destroying every bit of holiday cheer (and tinsel) it can sink its teeth into.
And really…how hard could it be?
The last few years have been tough on Rick Harding, and it's not getting any easier now that his dream girl's back in town. When Lana accidentally tranquilizes him instead of the Santa Moose, it's clear she needs help, fast…and this could be his chance to finally catch her eye. It's an all-out Christmas war, but if they can nab that darn moose before it destroys the town, Rick and Lana might finally find a place where they both belong…together.