Home for the Baby's Sake by Christine Rimmer is part of The Bravos of Valentine Bay series.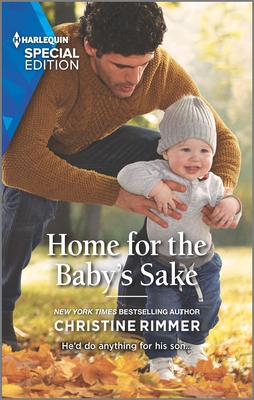 Hailey Bravo loves her job as the theater director of the Valentine Bay Theater. Hailey and her sister Harper who own H & H Productions have a contract with the Valentine Bay Arts Council to put on performances. Everyone is concerned about what will happen with the theater after the death of the previous owner.
It is known that the theater has been sold. No one knows the new owner's plans though. Unbeknownst to Hailey as she works on stage blocking for the upcoming Festival of Fall Revue she meets the new owner Roman Marek. Roman doesn't tell Hailey he is the new owner. Hailey and Roman experience instant attraction. So much so that Roman tells Hilary, while on their first date, they should get married. That sure wasn't happening so fast. Hailey lost the love of her life three years previously to stage four leukemia. As attracted as she is to Roman, Hilary isn't ready to get married. As time goes on though Hilary falls in love with Roman. And his eleven- month-old son Theo too! There's much to work out between the two of them. Sometimes true love and happiness doesn't come easily.
Roman Marek has had two previous marriages. His first wife Charlene married him for money and that ended in divorce. He married his second wife Nina when she became pregnant with his son Theo. He knew he didn't really love her though. Nina died in a car accident when Theo was just one month old. Roman's mother talked him into moving to Valentine Bay where they had lived before moving to Las Vegas. She talked him into buying the theater because it held such fond memories of the children events she and Roman attended there. He doesn't think she will approve of his plans to turn the building into a hotel. When Roman first set eyes on Hilary he was very attracted to her. It didn't take him long to realize she was nothing like his previous wives. She was the real deal, so genuine, caring and strong. He wants to marry her but isn't so sure about being in love.
Home for the Baby's Sake by Christine Rimmer is part of The Bravos of Valentine Bay series. I was intrigued by the two main characters Hilary and Roman. They are two dominant personalities capable of knocking heads together and finally finding a happy compromise. I found it amusing how many times Roman tries to get Hilary to marry him. They sure do have some serious bumps on the road to their Happily Ever After. I have enjoyed reading the love stories of the Bravo family so far. Good thing there are more of the siblings' stories to come.
Book Info:

Publication: September 29th 2020 | Harlequin Special Edition | The Bravos of Valentine Bay #9
He'd do anything for his son…
…Including returning to the town he left behind.
Valentine Bay's the perfect place for real estate developer Roman Marek to raise his infant son. But when he snaps up the charming local theater, he doesn't bargain for tempestuous director Hailey Bravo. Hailey won't let Roman wreck the thing she holds most dear—and she's certainly gotten under Roman's notoriously thick skin. As the duo spar and sparks fly, Roman's surprised to find that Hailey's the perfect missing piece for his family. But how can he convince her that this partnership's for keeps?
New York Times Bestselling Author