Mistletoe in Texas (Texas Rodeo #5) by Kari Lynn Dell: Hank Bookman is about as far down as a man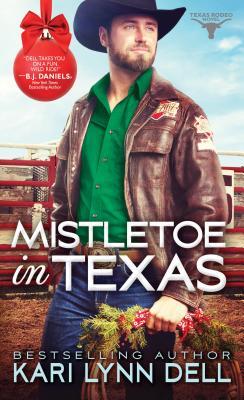 can go without being as lost as a shadowy figure of a man, hiding out in the Blackfeet Nation in Montana. Bing, a pyschological therapist swoops in to become Hank's counselor to stop Hank's descent. Yes, Hank had hit rock bottom. With his counselor's help along with having Gil Sanchez as his crisis sponsor there was no where for Hank to go but up. It was time for Hank to grow up and face his demons and get back to the living. That meant heading back home to Ernest, Texas and doing what he had to do to make up for past mistakes and earn some respect again, especially make up for past mistakes with Grace McKenna. He could do this! He was ready! But Grace has a major secret to share with Hank which could mess up his plans His dad had to get some counseling from Bing too and all his friends had to accept the new and better man he had become.
Mistletoe in Texas is the fifth book in author Kari Lynn Dell's Texas Rodeo series. I binge read this series from the beginning in one week and am ready for more. The stories were all excellent. The whole series is extremely well-written with loveable characters and true to life rodeo scenes which is no surprise considering the author competes in various rodeos. Mistletoe in Texas is such a complete and detailed story with screaming emotional scenes. A reader just can not avoid getting caught up in the emotions of the characters whether, joy, sadness, anger or despair. But there also is the Christmas spirit included in some fun ways like the hot spot in town, The Lone Steer, where everyong goes in December to watch the National Rodeo Finals happening in Las Vegas. It has a sprig of mistletoe hung from all the light fixtures and the joy of family getting together for Christmas. All this together makes this a super Christmas read.
You have to read this book or you will miss all the hidden jewels. Zap! Out of nowhere this author hits you with a line that leaves you laughing out loud. You really never know when she is going to hit you with a real zinger!
Book Info:

Publication: September 25th 2018 | Sourcebooks Casablanca | Texas Rodeo #5
"Dell takes you on a fun, wild ride!" –B.J. DANIELS, New York Times Bestselling Author
He's always been the black sheep: the troublemaker.
But this Christmas, the prodigal cowboy returns.
Rodeo bullfighter Hank Brookman was headed straight for the top. But after a single misstep resulted in devastating injury, he disappeared under a mountain of regrets. Now he's back, ready to face the loved ones he left behind-starting with the one girl his heart could never forget.
When Hank stormed out of Texas, he left Grace McKenna picking up the pieces…and struggling with a secret that changed everything. He may be back looking for redemption, but after everything they've been through, how can she admit what he really walked away from all those years ago?
Hank always knew persuading Grace to trust him again would be a tall order. Convincing her they deserve a happily ever after? That may take a Texas-sized Christmas miracle.
Texas Rodeo Series:
Reckless in Texas (Book 1)
Tangled in Texas (Book 2)
Tougher in Texas (Book 3)
Fearless in Texas (Book 4)
Mistletoe in Texas (Book 5)