Montana Cowboy Daddy by Jane Porter: Erika Baylor has been working hard for years on her education. She is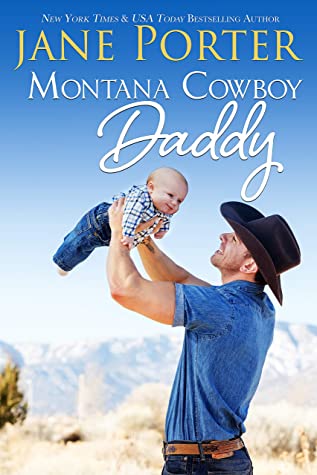 now in the home stretch, she hopes, as she is on her dissertation for her PhD. On top of that, she has to work to pay the bills. When she gets a call that her cousin has been killed in a car accident she is surprised since she has not heard from that cousin in several years. There is a baby that survived with no one else to claim him. Erika doesn't want that baby boy to go into foster care, so she makes a trip to get him. Baby Beck is adorable, but Erika wonders how she can be a single mother with all she has going on. She decides she will search for the baby's father.
Billy Wyatt is a real cowboy who travels the rodeo circuit. He is very successful and has no desire to settle down, despite his family's urging. When Erika shows up at a family gathering he is attending claiming she is Beck's daddy, Wyatt doesn't want to believe it. He wants a paternity test, even though the rest of his family immediately see Wyatt and Beck's eyes are the same.
It was hard for me to like Wyatt much at first. He seems totally focused on his career to the detriment of even missing some events with his loving family. Although he is handsome, he seems to know it and uses his looks to his advantage with women. He also seems to be a sort of adrenaline junkie with his need to take chances in the very risky pursuit of the rewards of the rodeo circuit.
Erika has been driven to pursue her education after she left behind a family that had cut ties with her when she refused to fit into their mould. You have to admire her for dropping her studies and rescuing Beck. Erika, too, has cut herself off from relationships with her laser focus on her dissertation. Although, Erika and Wyatt come from very different backgrounds, they seem to share a sort of obsessive personality trait.
I love cowboy stories and love that I have been able to read more of them lately. Montana Cowboy Daddy is the third in a series, but it stands very well on its own. Although I have never been to Montana, it seems like a beautiful place the way author Jane Porter describes it.
I read the author's novel Flirting With Forty in the past. I am happy to have been introduced to her more recent books and hope to continue to enjoy more of them soon.
Book Info:

Publication: April 1, 2021 | Tule Publishing | Wyatt Brothers of Montana #3
Professional rodeo cowboy Billy Wyatt is in the prime of his career. He's having a fantastic year on the circuit, earning big money and leading the standings. Too immersed in his success and enjoying bachelorhood, he's not interested in getting serious. But when a woman he's never seen before shows up with a baby she claims is his, Billy's world is turned inside out.
Erika Baylor, a PhD grad student, never planned to be a single mom, but when her cousin dies in a car accident, orphaning her infant son, Erika steps forward. She'll help to care for her 4-month-old nephew until the baby can be reunited with his dad. She doesn't expect the dad to be cocky, infuriating, and utterly irresistible.
Billy never thought he wanted to be a father, but looking into the eyes of the baby who is supposedly his—and whose blue eyes mirror his own—he's hooked. But he's hooked on the woman who's holding the baby too