On the Run by Valerie Hansen is the third book in her Emergency Responders series.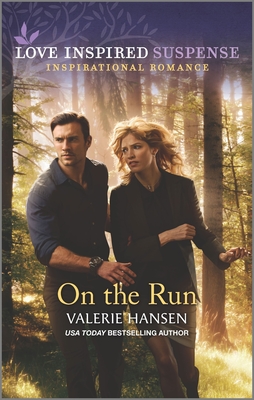 Janie Kilpatrick is on duty in the ER. A man with a gunshot wound has been brought in by three men, one of them with a gun. The loudspeakers in the ER are announcing "CODE SILVER." Janie sure knows what that means since she is with the gunshot wound patient and the man with the gun.It turns out the patient is the son of the man with the gun. This is not looking good. Janie has faced hardship and abuse from her three brothers. She escaped that life, took self-defense classes and became a nurse. She needs to get herself out of this dangerous situation. One of the men steps up to help her. There's a struggle. The gun goes off. Now there are two gunshot victims. But Janie can escape. Following the shooting Janie is sent home to recuperate from the frightening situation. While there she receives a call from the stranger who helped her in the ER. He tells her she is in danger and to leave town. Why should she trust this guy?
Brad Benton has gone undercover to infiltrate the drug gang responsible for killing the son of his boss, Chief Winterhaven. During a drug deal gone bad the dealers he is with are against taking the one who is shot to the hospital. Brad insists but tells the leader, Speevey and his other son to wait outside while he drops off Tim Speevey. But Speevey doesn't listen, insisting he and his other son had to go in with him and the situation went south quickly. The ER nurse was almost shot and now both Skeevey's sons were dead or critically wounded. Brad knew he had to stick to his role. He had to ferret out the supposed legitimate business men running this drug ring. When he decided to do what he could for Janie that game plan failed. Now they were on the run. The bad guys kept finding them and both he and Janie were lucky to still be alive. Time for a new game plan. This time it had to be successful. His life and the life of the woman he was falling for depends on success.
This was a thrilling read. There's lots of suspense and bullets flying. I liked how Ms. Hansen kept me guessing until the end. The plot of the story had plenty of action but also had me questioning some of the scenes. The two main characters Janie and Brad were so protective of each other. I loved that about them. They are so good for each other. Janie had major trust issues due to her abusive brothers and she needed to be sure Brad's tough exterior encased a softer interior, a good heart. Brad learned from Janie that it was OK to let go and love. They make such a sweet couple, along with Janie's little dog Pixie. I have enjoyed all the stories in this series so far.
Book Info:

Publication: January 1st 2021 | Love Inspired Suspense | Emergency Responders #3
Is she running from danger– or into it?
When a desperate criminal pulls a gun on her in the ER, nurse Janie Kirkpatrick is in deep trouble–until undercover cop Brad Benton saves her life. Now Janie's a witness with a lethal enemy and on the run with a stranger. She has no choice but to trust Brad. But can he take down the criminals before a murderer parts them forever?
USA TODAY Bestselling Author Valerie Hansen
From Harlequin Love Inspired Suspense: Courage. Danger. Faith.
Emergency Responders