The Girl with Stars in Her Eyes by Xio Axelrod: For Antonia 'Toni' Bennett music has always been her happy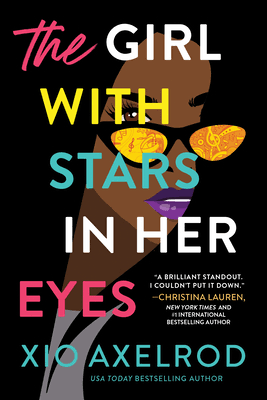 place, with a deadbeat mother and an abusive father Toni has had to make her own happiness. With the one person she always assumed would have her back, the one person who understood her the most; Sebastian. She just never expected him to up and leave her too.
Fast forward eight years and Toni is living her best life as a musician in Philadelphia. As the resident act at the Electric Unicorn she has built up her own little following, but her real goal is to partner up with Richie. The only snag being she needs a cool thirty-five grand. However things begin to look up when Toni gets wind that the famous girl band The Lillies are in search of a new band member, the only issue is the blast from her past who now holds her future in his hands.
Brilliantly empowering, that is exactly what this novel brought to the table, a story of strong females going after what brings them happiness. I loved every second of this novel, the thing that stood out was that each character that features in this story had a small back story of their own which contributed to the overall message.
Toni was such a great character to read, she was strong and fierce but still delicate and broken in her own way. The connection between Sebastian and Toni was intense to say the least. I loved that Toni kind of help save Sebastian in a way. I do have to say that one of the things I loved about Sebastian was that he tried to be better even when it was difficult for him. The Lillies were amazing, all completely different but so similar at the same time. I loved watching them welcome Tori into the group and how easily they blended and created together.
Overall The Girl With Stars In Her Eyes was a strong thought provoking read that I would highly recommend reading. This was loaded with growth and self discovery and mixed in with a dash of second chance romance.
Book Info:

Publication: May 4th 2021 | Sourcebooks Casablanca | The Lillys #1
They say the road to stardom is paved with broken dreams.
Growing up, Antonia "Toni" Bennett's guitar was her only companion…until she met Sebastian Quick. Seb was a little older, a lot wiser, and he became Toni's way out, promising they'd escape their small town together. Then Seb turned eighteen and split without looking back.
Now, Toni B is all grown up and making a name for herself in Philadelphia's indie rock scene. When a friend suggests she try out for the hottest new band in the country, she decides to take a chance. She's in for a surprise when one of the decision-makers turns out to be none other than Seb. Toni can handle it. No problem. Or it wouldn't be if Seb didn't still hold a piece of her heart, not to mention the key to her future.