#Moonstruck by Sariah Wilson: Maisy loves music and being in the band with her three very protective,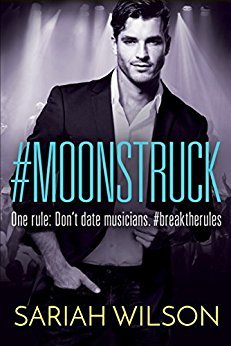 very annoying, older brothers. They aren't famous by any stretch and each has another job to help pay the bills. She is talented, smart, feisty, devoted to her family, and lives by two simple rules, one of which is to never date a musician.
Ryan is a world famous musician who gained fame and popularity as a teen. He's since grown up and grown out of his partying ways, but he's hoping to use his upcoming tour to show his record label just how much he's changed. And that means he needs a fake girlfriend and a fake relationship.
The last place Maisy wanted to be was at Ryan's concert, but she wants to be backstage to meet him and his band even less. She's not impressed by the groupies he's surrounded by and she's not afraid to tell him like it is. She certainly makes an impression. Maisy tends to be forgetful, which leads to their ongoing conversations and a once in a lifetime opportunity.
"Have dinner with me," he repeated, slower this time.
"No, I heard you. I just couldn't believe you were serious. Because I'm not even a little bit interested in signing up for the Ryan De Luna Conquest and Bedpost Notch Tour."
Maisy can't help but be attracted to the handsome, sexy, and charming Ryan even if he is a musician. She doesn't have a choice but to accept his proposition first to be his opening act and then to be his pretend girlfriend. The only problem is that their relationship feels more real and less fake everyday they are together. She's definitely slow to trust, but Ryan pays attention and puts in the time as she is one of a kind.
"Is it bad that I'm hoping you don't have any visible bruises? Because nobody is going to believe this is how you got them. Not exactly a good way to start our pretend relationship."
Was he serious with this? "Yes, let's make my humiliating injury all about you and your PR. Now shut up and go away before I give you some visible bruises."
#Moonstruck is delightfully entertaining with banter and sizzle. Sariah Wilson definitely dials up the heat and tension with this fake relationship. Ms. Wilson developed a great cast of characters in Maisy's siblings and friends with a cameo of Zoe and Chase from #Starstruck. #Moonstruck can be read as a standalone in the #Lovestruck series. Fans of Lauren Layne, Erika Kelly, and LuAnn McLane will enjoy #Moonstruck.

Book Info:

Publication: July 17th 2018 | Montlake Romance | #Lovestruck #2
Over one million "likes"—but only one of them matters.
After pop star Ryan De Luna praises Maisy Harrison's YouTube cover of his classic hit, he offers Maisy and her fledgling band the opportunity of a lifetime: to be his opening act.
Music may be Maisy's life, but she has one ground rule: never date a musician. That goes double for a heartbreaker like Ryan. If only she didn't feel so vulnerable to his larger-than-life charm. And maybe now more than ever, when he asks for her help to shake off his playboy image. How can she resist playing the part of his fake girlfriend for the duration of the tour?
Ryan's never met anyone like Maisy. She sees past all the star-studded fame and treats him like any other guy. And the more time they spend together, the more he finds himself falling for her. Now he'd like to make their imaginary fling an IRL thing. But can he convince her to take a chance and trust him with her heart?