In The Cottages on Silver Beach (Haven Point #8) by RaeAnne Thayne, Running the Inn at Haven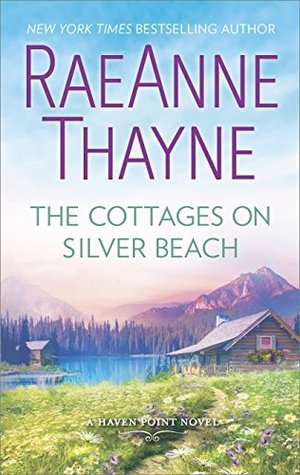 Point might not have been Megan Hamilton's dream career, but since it's been in her family for generations, she's staying put. For now. Although since her photography work is starting to get recognition, she's not sure what her future might hold after all. What it definitely doesn't need is handsome, beguiling Elliot Bailey to throw Megan's emotions into disarray. These days he's a successful FBI agent and a well-known author. But to her, he's the guy who let her brother down just when he needed his close friend the most. And Megan can't seem to see past it. But when he rents one of her cottages and they keep crossing paths, she can't deny the attraction between them. Or the fact that there might be more to why Elliot stayed out of her brother's drama than she realized at the time.
"Once in a while I can be spontaneous. Carpe diem and all that… And if you want the whole truth, I kissed you because I wanted to kiss you–because I've wanted to kiss you again since last night."
She opened her mouth to answer, then closed it again. Cyrus made a snorting noise that sounded suspiciously like a laugh. She glared at him, too.
Elliot always has a huge mix of emotions when he visits his hometown of Haven Point. While he loves the beauty and peace of the rural Idaho town, he has to maneuver his way through his outspoken family. And Elliot doesn't need them asking a lot of questions right now. He's trying to keep his injury and issues at work hush-hush but knows with a family of law enforcement professionals, that isn't likely to happen. His solution? To hide out in a cottage along Silver Beach, finish his manuscript for his next book, and hope his shoulder heals quickly. With Elliot's FBI career hitting a snag, it's not a good time to go and fall all over again for Megan. He thought he had left his feelings for her behind when he left Haven Point. But staying next door to her and her elderly pug Cyrus brings it all back. With bad blood in their history, Elliot isn't sure he'll be able to reach Megan, let alone express how deeply he cares for her. But he might have to give it a shot so he can finally move on, one way or another.
'She was right. A relationship between them made absolutely no sense on paper.
That didn't make him want her less.'
A gorgeous setting. Engaging characters. A slow burn, sweet & lovely romance. What more could you ask of a contemporary romance, right? How about an intriguing plot based on a past emotional betrayal stemming from a family disappearance?
'She couldn't let Elliot kiss her again. Every time he did, she slid further and further into love with him, that dark, terrifying place she never wanted to go.'
As everyone has probably figured out by now, RaeAnne Thayne is one of my favorite authors and I tend to go all fangirl about her work. So I'll try to rein it in here. (lol) But I have to be honest in that I simply did *not* want to put this book down once I started. Which kind of surprised me because there was some serious animosity happening between Megan and Elliot at the start. More on her side than his. And I sometimes have difficulty getting into stories that begin this way because I can't always see how things will ever be resolved in a realistic way. But of course I shouldn't doubt Thayne and her ability to create not only genuine characters, but to also have a natural progression to their relationship and how they solve their issues like in Elliot and Megan's case.
I got a kick out of the verbal back and forth between Megan and Elliot. Thayne always writes great dialogue, but there was something so fun and even raw about how they communicated. Okay, so sometimes there was a *lack* of communication which led to some issues, but things seemed to get talked out rather quickly afterwards. I really liked Elliot once we got to know him. Being an FBI agent, coming from a family of law enforcement, meant that he presented himself as stoic and emotionless quite often. But he was also a crime fiction author who dealt with emotions and complicated plots so Megan had a feeling there was more to Elliot than he let on. And she was right. He had a *huge* heart which got him into a snafu occasionally. Learning about what he faced growing up and the way his loyalty had him holding his feelings for Megan in for so long made me like Elliot even more–and for the standup guy he became.
Megan, well, she simply wowed me. Her upbringing was horribly rough and was heartbreaking to read about. However she somehow always held it together and had such a positive way of looking at things that I couldn't help but adore her. Thankfully Megan wasn't sappy or overly perky. She just had this calmness to her most of the time that everyone around her benefited from. Elliot included. Like most of Thayne's heroines, Megan had an inner core of strength while she still had a bit of vulnerability that made her seem down to earth and relatable. I think even though she had some stubborn moments in regard to Elliot and their complex relationship, readers will connect with her and cheer her on.
Visiting Haven Point with each new book RaeAnne Thayne puts out in this series, for me, is like coming home. With an emotional depth that captivated me and held my heart in its hands, The Cottages on Silver Beach is a must-read for romance lovers this summer.

Book Info:

Publication: June 26th 2018 | HQN Books | Haven Point #8
Years after betraying her, he's back in Haven Point…and ready to learn the truth.
Megan Hamilton never really liked Elliot Bailey. He turned his back on her family when they needed him the most and it almost tore them all apart. So she's shocked when Elliot arrives at her family's inn, needing a place to stay and asking questions that dredge up the past. Megan will rent him a cottage, but that's where it ends—no matter how gorgeous Elliot has become.
Coming back home to Haven Point was the last thing bestselling writer Elliot Bailey thought he'd ever do. But the book he's writing now is his most personal one yet and it's drawn him back to the woman he can't get out of his mind. Seeing Megan again is harder than he expected and it brings up feelings he'd thought were long buried. Could this be his chance to win over his first love?