More Than She Expected by Karen Templeton: Laurel Kent's life is starting to get pretty complicated. The YA writer is slowly fixing up the house she bought a few months ago and trying to prepare to raise the baby growing inside of her by herself after being left by the father.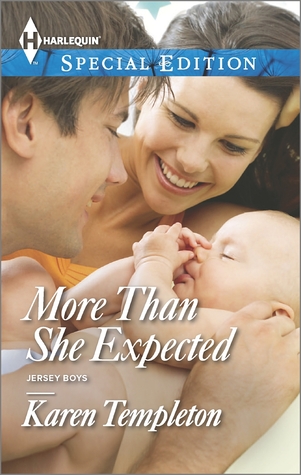 The rickety fence between her yard and Tyler Noble's is just one more thing that needs doing, until his dog makes his way over to her home and they discover a big hole in the fence. When Tyler offers to build a better fence, a friendship of sorts sprouts between them, one that's complicated by the fact that Laurel is pregnant.
"Hormones, that's all this was. Had to be. Only reason she could see for her insane, and totally inappropriate, attraction to her cute, sexy, built, sexy, blond, sexy neighbor."
Tyler Noble enjoys hanging out with his new neighbor until he realizes she's pregnant. Dealing with his own issues surrounding his birth, childhood, and adoption, Laurel's pregnancy brings all sorts of emotional baggage to the fore. He's never felt like he's known who he is or where he fits in the world, but being with Laurel feel more and more like where he should be. Tyler finds himself more and more involved in helping Laurel prepare to welcome her baby, and more entangled in his growing feelings for her and her baby.
"Because Tyler didn't know who he was. Not entirely. His whole life…it was like one big lie, wasn't it. Okay, maybe not a lie, exactly. A mystery, then."
Laurel is determined to raise her baby alone, but can't help but accept the help that Tyler and his family provide her. The more time they spend together, the more the attraction between them grows. But can they work through their issues with trust and commitment to become the family Laurel's baby needs?
I enjoyed reading Laurel and Tyler's story in More Than She Expected. Karen Templeton has a fun voice that makes this book an easy read and perfectly captures the personalities of her characters. Reading More Than She Expected, you can't help but love Tyler, the charming man still damaged by his painful childhood who still has a lot of growing up to do, even at thirty. I also loved Laurel's gran, Marian, and Tyler's dog Boomer. Seeing everyone rally around Laurel even as she insists she doesn't need any help was a beautiful picture of small town life.
But I didn't feel like Laurel evolved much during the book. Getting to know her was like pulling teeth. She never wanted to admit she was scared or needed help or was attracted to Tyler. Ms. Templeton does such a splendid job showing Tyler's growth that it makes Laurel seem like she's standing still. Laurel's issues with trusting and loving seem tame when compared with Tyler's issues.
Another issue I had with this story was the ending. The ending is more a happy for now than a happily ever after. I didn't feel I saw enough to trust Laurel not to pull away or muck this up in some way. Tyler is working on his issues, but there will be some rough days ahead, and I wasn't sure she could handle it.
I struggled with this review. I loved Tyler's story and Ms. Templeton's writing in More Than She Expected. I liked the supporting family members. I liked the book, a lot. I just didn't feel that indefinable affinity romance readers are supposed to have with the heroine. I didn't feel we got to see her grow as much as Tyler. When she was emotional, it was shown from Tyler's point of view. I felt Laurel held me at a distance and I didn't get to know her as well.
Even so, I would recommend More Than She Expected to anyone looking for a read with a compelling hero forced to confront the emotional baggage of his past and grow up so he can go after the future he wants. I would also recommend it to anyone who loves their romances with a loveable pooch, a spicy grandma, and a family willing to love and accept both a damaged man who doesn't feel like he fits them and a woman determined not to need anyone.
Book Info:

Published March 18th 2014 by Harlequin Special Edition Series #2324
He's just a friend! is the mantra pregnant Laurel Kent lives by while pretending not to stare at sexy Tyler Noble, the gorgeous neighbor who's been all-too-kindly playing Mr. Fix-It in her house. After all, she needs the help more than she cares to admit—her sharp-tongued grandmother is her only family. But it's getting nearly impossible to ignore the sparks and butterflies she feels in her tummy every time he smiles at her…and that's not the baby talking!
It's ironic to Tyler that he's repairing the fence separating his yard from Laurel's when all he wants is zero barriers between them! Sure, she's pregnant, and no, she insists she's not looking for Husband #2. But he knows if she'd give him a chance, he could prove that he's the missing piece needed to complete her new family….