In Mountain Witness (Tennessee SWAT #2) by Lena Diaz, Julie has moved to the town of Destiny to escape from someone who was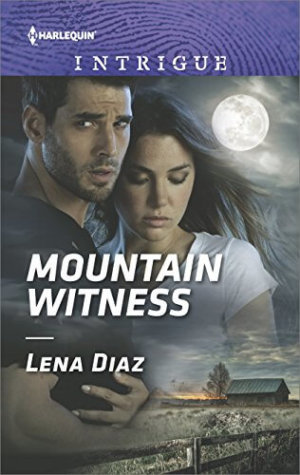 supposed to love her. She intends to keep her distance from everyone – including her sexy neighbour Chris. But when her past catches up with her, Chris, who happens to be a Detective is the one who comes to her rescue…in more than one way. Having had to take a life to save Julie, Chris is determined to get some answers. Answers Julie doesn't have. Chris isn't sure if he believes she's not holding back something, but as he helps her he finds himself not only trusting her more and more, but attracted to her as well. Soon the two of them not only find unexpected answers to the past and the present, but a mutual attraction that might or might not have a chance to grow if they can escape a killer.
Mountain Witness is a fast paced, intricately plotted romantic suspense. Lena Diaz kept the suspense high and the mystery intense. Most of the plot was believable, some of it had me wondering if people would actually do that, and together this made Mountain Witness an exciting and intriguing read.
Julie was a difficult heroine to connect to for some reason. In some ways she was the typical heroine in distress and frustrated me, but in other ways I felt for her and understood why she was acting how she was. Finding herself in the situation she was in was terrifying for her and I could feel her fear, her distrust, and her heart break. I really liked Chris! He is a total alpha hero! I liked how he was with Julie and that he wasn't convinced he needed to act alone, without his team. It was a difficult situation to meet someone in, and I think as fast paced as it was it was written well and believable. I liked the connection between Chris and Julie, even with the ups and downs and fear of trust, they kept on.
I loved the way Julie's family is drawn into this and how it all played out. Although I would have liked more of that family story, it was a great sub plot in the book!
Fast paced and easy to fall into, I'd recommend Mountain Witness to any romantic suspense reader!
Book Info:

Published: January 17th 2017 by Harlequin Intrigue
A woman in hiding and a man on a mission in the Smoky Mountains
Detective Chris Downing doesn't know much about his neighbor. In the rural town of Destiny, Tennessee, Julie Webb lives a life of seclusion, rarely even offering a smile or wave. Only when Chris hears her frantic screams one night does he gain a glimpse into the life of a woman in hiding, and in saving her life, he is forced to kill her attacker. But Julie's troubles are only beginning to unravel. When Chris learns the identity of Julie's attacker, questions of trust are raised and suspicions run high. Together they will uncover the motives of a killerand the undeniable attraction between them.