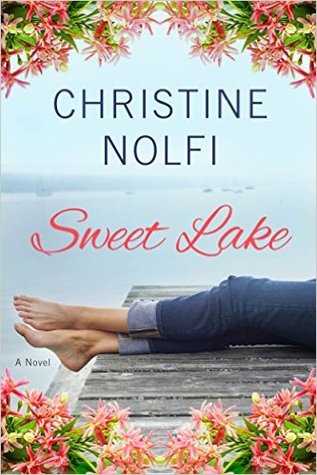 In Sweet Lake: A Novel (Sweet Lake #1) by Christine Nolfi, The Wayfair Inn has been the crowning glory of Sweet Lake, Ohio, for so many years that the town is centered around its success. Or its failure, as the case happened to be seven years ago. Since her brother all but ruined the family business, Linnie Wayfair has been slowly rebuilding its reputation and hoping to keep the momentum going. But a new family issue threatens to undo all the improvements she's so painstakingly made.
"Still trying to protect me?" She rested her palm on the side of his face.
The softness of her touch made his voice hoarse. "I'll always keep you safe, Linnie." Angling his neck, he brushed his mouth across hers.
Attorney Daniel Kettering has spent years dreaming of having a future with Linnie but she's kept things strictly platonic. So even though he can't call her his own, he never misses a chance to watch out for her. And with the livelihood of the Inn at stake after all of Linnie's hard work, Daniel will do anything to help. With the aid of their friends, her coworkers, and the Sweet Lake Sirens, a group of 'mature' ladies who help the community, they'll band together to save the Wayfair Inn–one way or another. And who knows? Maybe romance will find its way into Daniel and Linnie's lives after all.
"Linnie, most men have an idea of the perfect woman." He rubbed his nose across hers. "You've always been mine."
She laughed against the tears catching on her lashes. "You're crazy."
"For you? Always."
What a fantastic start to a new series! Sweet Lake was part romance, part family drama, and had a whole heaping helping of quirkiness thrown in to keep things absolutely entertaining.
'The best lessons come when our hearts are broken open.'
I'm actually new-ish to Nolfi's writing but so far I'm loving everything of hers I've picked up. And with Sweet Lake, not only did I enjoy the offbeat characters–with their variety of personalities–but I also liked that this truly had a charming small town feel to it. Sweet Lake itself was tied to our heroine Linnie's family since it was founded and the ups and downs of the family's inn greatly affected the town. So it was interesting to see how Sweet Lake and its townsfolk handled the turnaround Linnie was starting to make after seven years of hard work to build the inn back up to its former glory.
This was basically an unrequited love trope, with Daniel having spent the last decade or so in love with Linnie, but finding himself stuck in the friend zone. I *loved* Daniel and thought he was just the most standup guy who would protect those he loved at all cost. It was quite fun to watch him gently nudge Linnie toward a romantic relationship and it felt genuine that she was worried she would mess things up between them as they'd been friends for so long. Linnie underwent a lot of personal growth over the course of the book and I loved seeing her go from an almost timid woman to someone who was still kind, but who spoke her mind and went after what she wanted.
And I have to mention that Nolfi created some terrific secondary characters here. From Linnie's BFFs Cat and Jada, to Daniel's brother and niece, Philip and Fancy, to Linnie's brother Freddie and their parents, each person was unique and brought something special to the story. My favorite was actually the Sweet Lake Sirens, specifically Frances, whose POV we got here and there throughout the book. I loved their mantra 'Hear the Siren's call and give kindness in secret' and that as their leader, Frances took it to heart and tried her best to help out her fellow townsfolk. She was one smart, thoughtful lady.
I can't say enough good things about Sweet Lake. And I hope readers get as much enjoyment out of the comical antics and the heartening lessons the characters go through on the way as well. Highly recommended.
Book Info:

 Expected publication: February 28th 2017 | by Lake Union Publishing | Sweet Lake #1
Linnie Wayfair knows just how many people are counting on her. But knowing doesn't make doing any easier.
Everyone in Sweet Lake, Ohio, wants her to muster all her business sense and return the Wayfair Inn to its former glory. Her parents hope she'll forgive her scoundrel of a brother and reconcile the family. The eccentric Sweet Lake Sirens want her to open the inn—and her heart—to new possibilities. And her hilarious lifelong friends Jada and Cat are dropping none-too-subtle hints for her to ignite a romance with Daniel Kettering, the sexy attorney who's been pining for her for years…
Now a shocking turn of events will open old wounds and upend the world Linnie has carefully built. She has to make changes quickly—and the results, though not entirely what she expected, might be what she's been yearning for all along.