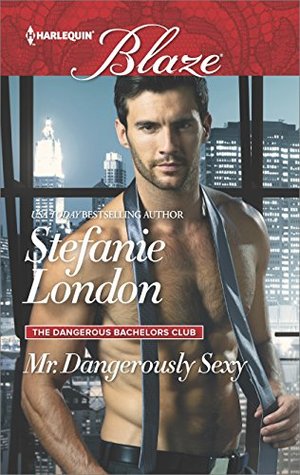 Mr. Dangerously Sexy by Stefanie London: Addison Cobalt runs the business side of her late father's security company. In conjunction with Logan Dane, her father's right hand man and her current business partner, they've kept the business growing since the death of her father. But Addison feels it's time for her to move on and start her own business. She's been looking into properties and figuring out which employees of Cobalt and Dane might want to make the move with her, but hasn't yet figured out how to tell her partner her plans. She and Logan shared a night together after her father died, but Logan showed no signs of wanting to turn it into anything permanent so Addison put a relationship with him off the table and focused on maintaining a good working relationship with him.
Lately she's been getting threats from an outside source in the form of emails at first, and then a frightening roadside encounter. Someone has it in for her but she doesn't know why and Logan is determined to get to the bottom of it. He made a promise to his former boss, Addison's late father to keep Addison safe and has already done a poor job of it by sleeping with her and then distancing himself. He's not going to fail again. But having Addison in close proximity as he searches for the unknown threat means the attraction between them can't be ignored any longer. A steamy fling might be the answer – until Logan realizes he wants more. But if Allison's stalker gets to her first, he might not get the chance to tell her how he really feels.
This is a steamy romantic suspense story, and a good addition to the Dangerous Bachelor's Club series. We've seen Logan as a secondary character in some of the previous books in the series, as the head of the security company, and I've been waiting for him to get his turn at a happy ending. He and Addison have known each other since he was 22 and hired by her father (when she was 16) and have a strong friendship. He's made some not so great choices in the past (like sleeping with Addison and then making it clear that he didn't want to pursue anything further by dating someone else) and wants to make up for his mistakes. He worries about her safety with the threat coming for her getting more serious by the minute. He comes across as a guy who is willing to own up to his mistakes, and a genuinely good guy all around.
I had some trouble with Addison's future plans. Not that she shouldn't start her own business, as she's certainly entitled to whatever job she wants to have. But I didn't care for her considering poaching some of the staff out from under Logan's nose. I would have expected her to be more loyal to her dad's company and Logan, and be on the up and up about leaving instead of planning to do it secretly. Also, she didn't seem to think about the effect leaving her management position would have on the rest of the staff and the company as a whole. It's understandable that she'd feel like she's in Logan's shadow with him having been a favorite of her father but she could have stood up for herself more and communicated her concerns with him. On the plus side, Addison is smart and friendly, and has a good working relationship with her staff . She cares about them on a personal level (which is what made her business decision to leave Cobalt and Dane hard for me to understand). The consequences of her decision to start her own business become more wide ranging in the second half and lend themselves to some of the conflict between her and Logan which does eventually get resolved.
The suspense plot is pretty intense in parts as the threat to Addison intensifies. It also ups the tension between Addison and Logan, both sexual and otherwise. They share some steamy scenes together, which results in them realizing that things are getting more serious between them. I liked seeing all the characters from previous books (all of which I've enjoyed) and am happy with how the plot is resolved and Logan and Addison's happy ending. The epilogue is a nice touch! I look forward to what's coming next and I hope that will be Owen's story.
Book Info:

 Jan 17, 2017 | Harlequin | The Dangerous Bachelors Club #4
He'll keep her safe…but can he keep his distance?
When Addison Cobalt learns she has a potentially volatile stalker, she tries to hide it from her business partner, Logan Dane. The hyperprotective, supersexy cohead of their security company will only try to take control of the situation–and her.
Which is exactly what Logan does when he finds out about the stalker. Addison craves the safety of Logan's body, but that doesn't mean she's willing to give up her independence, or all of her secrets, for him. She has a few ways to shake Logan's iron control, but it's a wicked and risky game. Because the only thing more dangerous than her stalker is Mr. Dangerously Sexy himself!