In Mr. President (White House Duet #1) by Katy Evans, Even though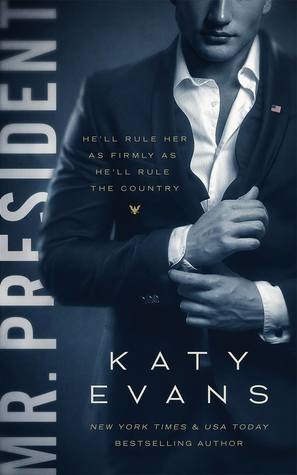 she grew up in the political world, with her father a U.S. senator, Charlotte Wells has never aspired to work in that field. Although after meeting former president's son, Matthew Hamilton, when she was eleven she did offer to work on his campaign should he ever run for president. Who knew he would take her seriously? So now with Matt having thrown his hat into the ring, Charlotte finds herself as one of his campaign interns. And foolishly crushing on him. Their attraction is something she's never felt before but she knows it could harm his candidacy. So as election day looms closer and a win is a strong possibility, she'll have to be prepared to let go of the one man she could see herself with forever.
"I may be the next President of the United States! I'll be damned if I don't have what I want," he growls, "and I want you. I not only want you, I need you. No matter what I'm doing, I'm thinking of you. No matter who I'm with, I would rather they be you…"
…I don't care about more. I don't care that there is no future for us if he wins. I won't deny us both this moment. He said he needs me. And I need him.
When Matt's father, President Lawrence Hamilton, was killed while still in office, he never thought he would one day himself be making a bid for the White House. His intentions are pure, though, with a need to follow through on his father's vision and make America as great as it once was. And Matt's laser-like focus never wavers. Until he asks Charlotte to join his team. Then his thoughts are swamped with images of the beautiful intern and the life they could have together if things were different. But Matt has to be careful of what he wishes for. Because hopes for his romantic dreams to become reality could mean losing his fight for the presidency.
'I'm running for the most powerful office in the land. Ironic that I can't promise something as simple as my love to her.'
A slow burn romance, Mr. President was filled with well intended political aspirations, a family legacy, and an impossible relationship. Katy Evans' newest release had sinful intensity and the heartfelt emotions that I've come to love and expect from her wonderful writing.
Lightly smiling, he reaches out to brush the back of his thumb along mine. "I've got news for you, Miss Wells–my off-schedule hours are mine to do with as I please. And I intend to do you every one of them."
What perfect timing for this book to come out, with the current presidential campaigns reaching a fever pitch in the country right now. And Mr. President was a pretty cool behind the scenes look into running a campaign and what one (fictional) candidate went through. I loved Matthew's view on politics. It was refreshing and he brought everything back to truly wanting to make America great in an honest, forthright manner. Evans was able to capture that essence, of wanting to do right and lift people up instead of focusing on negativity. Something that I think will resonate with many readers.
Charlotte and Matt were great together, in my humble opinion. They brought out the best in each other and had very similar visions as to what they wanted personally and for their country. The sad part was that even though they were perfect for each other, they couldn't risk sharing their love with the world or it would harm Matt's campaign. And with him having seen firsthand what a presidency could do to a marriage, with all of its heavy responsibilities, it would mean he would have to basically ignore Charlotte should he win. It was quite a no-win situation. And the desperation they felt because of it is what I thought fueled their intensity and brought about just the right amount of angst to make things seem realistic.
After getting to know Matt Hamilton in Mr. President, I would 100% give him my vote. I look forward to getting swept away in the upcoming sequel, Commander in Chief, and see how he and Charlotte are able to resolve their relationship issues for good.

Book Info:

Publication: October 31st 2016 | Createspace Independent Publishing Platform |
From New York Times and USA Today Bestselling Author Katy Evans comes a sizzling new contemporary romance.
He's won the hearts of millions. But is he willing to lose his?
I met the president's son when we were both young. Matthew Hamilton was handsome, polished, and intelligent. I'd never met a guy like him.
He promised me that he'd never run for president. I promised that if he did, I'd be by his side.
Three terms later, an invitation to join Matthew Hamilton's campaign is the most exhilarating opportunity I've ever experienced. I'm determined to make a difference; he is determined to win.
Focused on his goal, Matt is steadfast, ruthless, and disarming. All eyes are on him and his popularity is surging. But soon, the next possible president of the United States is possessing me in more ways than one—and despite the risks, I'm helpless to resist.
We're stealing touches, stealing moments, and stealing away at night. But our chemical connection is quickly becoming dangerously combustive, putting not only my heart, but Matt's chance at the presidency on the line.
Winning will take everything. Walking away will be the hardest thing of all.